Finally, the cold ended and you can afford long walks. In the warm season, my daughter and I walk 6-7 hours a day, which is much better than staying in a stuffy apartment. Toys help, of course, to diversify walks.
Forms for beekeepers are no longer so popular with their daughter as they were in 2-3 years. Perhaps this is due to the fact that the sand is dry and it is inconvenient to mold sands from it, I do not know.
Mandatory attribute of our walks – a bucket. You can collect anything in it: leaves, shells, pebbles, flowers, etc.
We also have several sets of toy dishes that are actively used on the court. They include pots, pans, cups, plates, spoons and even kettles! Not only girls are engaged in cooking, but boys too. In the course are any available materials – sand, plants, stones, flowers.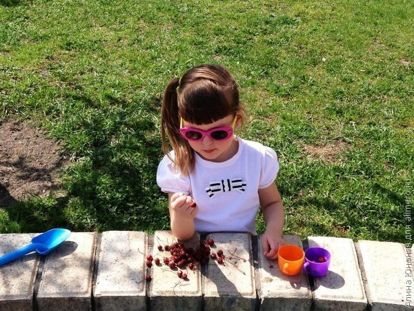 We seldom take it – firstly, it is large, and secondly, during games with it, chances are that children run out onto the road, and often it rolls under the cars, then it gets behind the fence. On top of that, a dog often walks with us, which in a fit of passion has already broken more than one ball.
At the age of 4, children usually play with role-playing games with dolls. Now my daughter is not particularly interested in naked pups, so we often take Barbie dolls or Winx fairies for a walk.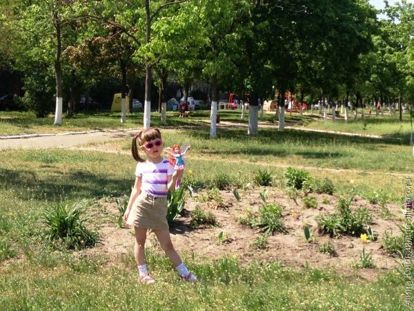 Girls retire on a bench or grass and play various plots with dolls – they collect them for the ball, then feed them, then play with them in the store.
It seems to me that this is a constant hit for most children, especially since now there are so many varieties of them – from ordinary to automatic pistols, which themselves produce soap balls.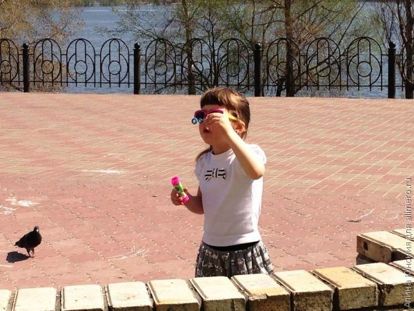 As practice shows, almost all of these products are disposable – no matter how much I tried to prepare the liquid myself, I did not succeed. On the Internet there are many recipes – with glycerin, dishwashing detergent, and even sugar. Honestly, I did not try them, because I found in the supermarket a ready-made Bubble Liquid, which costs 100 rub. for 1 liter.
We also have an ELC wheelchair frog, which has a button on the handle, when pressed, a whole stream of small bubbles flies out of the frog's mouth. But we rarely take it for a walk, because the daughter does not like to share it, as a result of which fights and tears arise.
Practically none of our walk is complete without a scooter, we even go to the gym with it. Other children are walking with bicycles or running races. In between games on the playground, kids love to play catch-up and ride a race.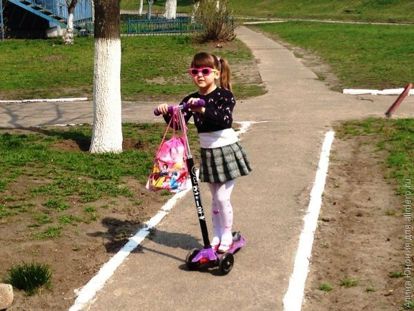 While girls play with dolls, boys usually play with cars or motorcycles — they carry them around the side of the playground or form a car park. Models with sound and light effects on the site are usually not taken, because the ingress of sand into the mechanism can cause damage.
Larger vehicles are also used in the sandbox – sand is poured into dump trucks, pits are dug with a bucket.
No matter how lazy to carry toys, but without them is boring. I found a way out – I bought a penny backpack for street toys with princesses and Masha with the Bear, who wears the daughter herself.
Often she has a desire to take a lot of things – a ball, and dolls, and a bucket, and to all other musical Cheburashka. In this case, I remind you that she carries her toys herself, and you have to make a choice.
And what toys do you take for a walk in the summer?