My daughter has long asked to take her with me to some tournament. And now there was an opportunity – we went to the box together. I must say, I thought it would be much worse. I was afraid that I could not stand such a joint pastime. But, surprisingly, my nerves remained intact. But the child was impressed.
When desires coincide with possibilities
I have already mentioned that I lead my website on the subject of martial arts, so I often go as a member of the press to various tournaments. Usually they go in the evenings, end late, so I leave the child with my grandmother. There they will buy her food, entertain her and put her to sleep.
And I have the opportunity not only to spend my personal time, but also to sleep well at home. My daughter does not like to spend time without her mother, so she constantly asked to go with me. And the other day her wishes coincided with the relevant circumstances.
Our aunt, who lives with her grandmother and with whom her daughter sleeps when she is staying with her, is seriously unwell. To lead a child to such nannies was impossible. But I didn't want to miss the tournament either. The leading boxing company, the closing event of the year, in the main battle of the famous boxer.
In general, without hesitation, I decided. Moreover, the daughter is already quite adult, you do not need to walk behind her tail.
How it all happened
The fact that the daughter will not be afraid of what is happening in the ring, I knew for sure. When my husband was still with us, I often took her to him for training. Therefore, the spectacle, when people hit each other's face, does not frighten her in the least.
Several times we went to amateur tournaments, where she always felt confident, driving around the room, tumbling on tatami and kicking bags. Once before her eyes in the ring, the guy was sent to a deep knockout. She did not lose her head. ABOUT! Look, died! – she happily stated.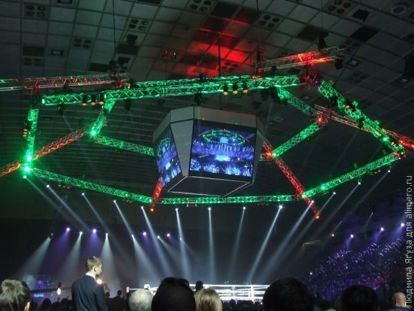 Now she didn't care about the ring at all, especially since he was too far away from her. But next to it was a cabinet with rotating lamps – that was what took the child for a long time! I specifically took with me a whole set of things: three favorite books, a notebook and pens.
All this was enough for just 15 minutes. I planned to distract with bananas and yogurt, but we did not have time to run into the store. Yes, and at the entrance to the food is not allowed. The popcorn she bought in the lobby was not impressed. New food, we always perceive with caution.
The question is, what did the child do from 19.00 to 23.00 in the auditorium? The only possible: ran, jumped, danced. It is good that our places were on the ground floor and on the edge. Having danced, she found herself new entertainment: walking along the rows, forcing people to miss her. Then she began to climb under the free chairs.
Someone looked askance at us, someone was touched by the hyperactivity of the child, but I restrained her only when she really disturbed someone to look. In the end, things can be washed, and so much time to sit a child at that age is simply incapable. Yes, and this tactic perfectly saved my nerves.
But to the last battle, she finally exhausted herself and began to demand to return home. It is not surprising, at this time she usually falls asleep. But work is work, it was necessary to see it through to the end.
The most interesting thing is that no matter how tired a child is, for his own peace of mind, he had to observe all the evening rituals. At half past twelve we went to the store to buy bananas and juice so that there was something to eat and drink before bedtime. After bathing – an obligatory portion of cartoons.
The blessing did not have to put the music to sleep – this simply did not have enough childish strength. I'm afraid this experience will be quickly forgotten from her and she will again demand to take her with her. On the other hand, such trips are a great experience for her and for me. I hope that theoretically and for some of you.