Often, playing with my children on the playground, I see how babies in the sandbox are quarreling, how they can not share toys, how to fight, cry and swear. They are in a world of grievances and quarrels, stresses and disappointments. Why is this happening, who is to blame? Maybe my mother overlooked or is this the world?
Once, I watched a program about children's grievances and quarrels. The transfer was long and informative. The red ribbon traced the idea that the world around us is not white and fluffy, and the sky is not in a daisy.
Mothers should explain to their children that children are different: some get the right upbringing, few other children do. This is where the clashes of characters, the difference in behavior patterns and the different psychological environment come from.
Some kids grow up, share their toys, play with their peers with pleasure, others strive to pick up, break, offend. I tried to bring all this to my children.

Children of society
Trying to figure out why my children didn't get along well with their peers at first, I noticed one peculiarity. Children who go to kindergartens are more sociable and adaptable to their peers. They are more contact and sociable.
We do not go to kindergarten. I will not say that my kids do not know how to find a common language with other children, but they are more constrained and do not immediately make contact.
Seeing this problem, I began to take the children more often to places filled with children. Over time, this problem of non-contact disappeared, but a new one appeared.
All mine is mine, and all yours are mine
The problem of toys. Going to the playground, I dragged a box of toys. Pistols, shovels, swords, dolls, scooters and a bicycle. Because we wanted to play with our toys, but we also did not disdain strangers. And we did not give ours, but others were supposed to be in our handful. Well, when the neighbors kids share toys, and sometimes the real battle for the green vedertsa takes place.
Again, I had to explain that toys should be shared, that one should not be such owners. The world reigned again on the site. This moment has already been fixed. Now my children share their toys, play with neighbors with pleasure, and do not take offense if someone does not allow them to play with their set of sand.
Today my kids are 5 years old, and they are starting to understand the difference between children. Some children are kinder, others stronger in character, others ill-mannered. They begin to work selectivity, which allows them to avoid conflicts and quarrels that were before. My children pick their friends by character. They clearly know with whom they are comfortable and comfortable to be friends, and with whom they constantly conflict.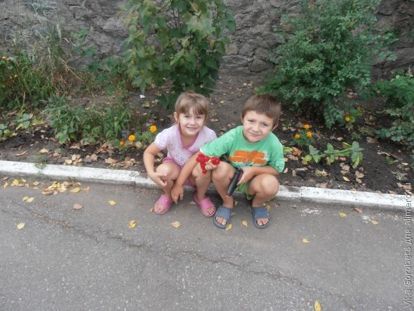 Guide, help your children adapt to society. If we analyze the situations in which our children quarrel, fight, do not get along with their peers, we will quickly help them find a common language, correct mistakes, make contact with other children and make friends. Then quarrels and children's offenses will be less.
And your children are in conflict with their peers?