Wow! as a method of distraction does not work anymore … I realized this recently. If a few months ago, the attention of the capricious son could be easily switched to something, now this number does not pass. He runs interested to look at the tractor (or whatever else), and then … continues to cry and demand.
The son is almost 2 years 2 months old. From time to time (yes, there, periodically – every day!) We have to face its whims. If something was not allowed to him or something was not given, events develop according to one scenario. The son silently steps aside, silently falls on all fours and in this position begins to cry loudly.
I'm ready to tolerate everything, because this is my child, but I don't want to spoil him and spoil his character. Therefore, I try to understand the reason and understand how to behave correctly?
If now it is useless to distract, you need to invent something new.
1. Do not distract, but explain. It turned out that it was even interesting – to see that the son already understands a lot, listens and responds adequately to the serious tone of adults. Of course, when he lies in the hallway on the floor and shouts, there is no way to explain, but now he calms down pretty quickly and, fortunately, does not get hysterical. Apparently, he understands that it means it is necessary.
2. Give him the right to choose. I often ask my son what he will eat, and I suggest, for example, macaroni or porridge. Or interested in what kind of toy he will take with him for a walk. This, by the way, sometimes helps the son to distract from another whim – thoughts switch to another.
3. Allowing to be independent. Indeed, at this age, the main reason for all the whims is precisely this new desire for a child. I myself sound very often. The son wants to pour himself water into the cup himself, wants to climb the stairs himself, carry the basket in the store himself, give the aunt a coin and many more he wants to do himself.
Example: We go home from a walk. We approach the entrance door, draw out the keys, open and hear the crying of the intercom and the crying of the son together. He expected himself to open the door, but I thought, did not understand. I close the door, give him the keys and he calms down and opens it. What am I doing – indulging him or just showing understanding? But yesterday I allowed him to open the door himself, why would it be impossible today?
4. If possible – do not prohibit. At 2 years old, almost everything a child wants is impossible.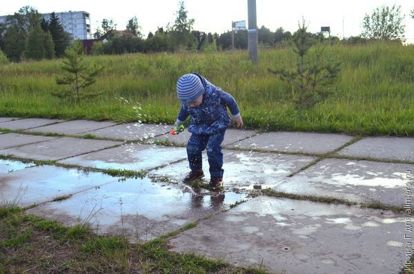 To run through the puddles – you can catch a cold and ruin your clothes, you can pour water into a cup – there will definitely be a flood. Sometimes it's easier, of course, to ban. But then how to develop a child?
I decided for myself: it is better I will sometimes suffer inconvenience, but I will give the child the opportunity to learn independence. By this I will also let him know that I can be trusted, this is important to me.
And how do you cope with the whims of a child?