Until my eldest daughter removed the adenoids, colds and red throats were frequent guests in our family. Therefore, I managed to get a set of tools that we regularly used against the sore throat. This and folk remedies, and medicines.
It is recommended to drink a lot during any cold. It should be a warm drink, but by no means hot. I force daughter to drink about 2 liters of fluid per day. One mug is about 250 ml, it should drink 8 such mugs.
We usually use tea with frozen berries, most often with raspberries or tea with lemon and honey.
It is also good compote of dried fruit without adding sugar. I make it in a thermos, just pour dried fruit with boiling water.
If the sore throat is accompanied by a cough, I give the children warm milk with a spoonful of honey. Such a drink has a warming effect and relieves irritation. My mother still advises adding butter to milk, but we somehow don't use this advice, otherwise the daughter will not come close to such a mixture.
When a sore throat hurts, it is recommended to use different rinses literally every hour, then they will be effective. They contribute to the fact that the viscous sputum and mucus is washed off from the mucous membranes, and the pain is reduced. For rinsing, you can prepare a decoction of sage, chamomile, calendula, these herbs have an antiseptic effect.
We most often use salt solution for rinsing. To prepare a solution for a glass of warm water, I take ½ tsp. salt or sea salt. You can add a drop of iodine to it, but it seems to me that there is no effect from it. Such salt rinses can dry out mucous membranes, so they should not be abused.
If the child tolerates honey, and there are no allergic reactions to it, you can let the baby dissolve a teaspoon of honey. It will take away the pain. But the truth is that in some people the taste of natural honey can cause sore throat and therefore it is recommended to drink it with warm water.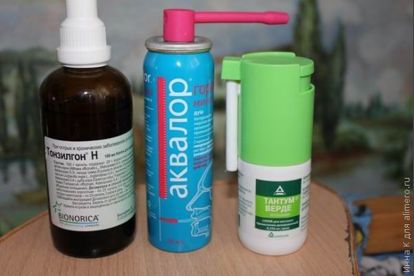 When folk remedies do not help, it's time to take up medicines. This is a photograph of those drugs that are in our home first aid kit.
Usually we use Tantum Verde. It seems to me that he helps well, and, moreover, the youngest daughter agrees to inject himself only into his throat.
Aqualine throat is essentially the same gargling with salt water, only in spray water is sea water and chamomile and aloe vera are added to it. This tool came to us when the younger child fell ill, small children do not know how to gargle, and such a spray came to the rescue.
Tonsilgon N appeared here, one can say casually and is unlikely to remain in the first-aid kit. It turned out that the younger daughter fell ill at the weekend, and we got an appointment with the doctor on duty, who prescribed this remedy. It turned out that it is absolutely impossible to drink because of the very bitter taste. And this is not surprising, because it contains an alcohol extract of various plants.
I would recommend using folk remedies only until you consult a doctor and with this it is better not to pull. If you are not an expert, you can hardly make the correct diagnosis yourself.

How do you treat a sore throat?