Now it is not uncommon when there are two or more children in a family. I have two girls, the difference in age is 4 years old (the youngest is 4 years old, and the oldest is 8 years old). It would seem that two sisters, two bloody women, should live together. But how not so!
Initially, as a child, I often heard from my mother in a conversation with her friends: How nice, when there is a brother or sister … your Masha is lucky, there will always be support from Kolya! I will say right away that I am the only child in the family. And I could not have a brother or sister, as my mother gave birth to me late. Yes, I did not really want, now I would not mind.

So I listened to my mother's conversations and decided that I would grow up and have many children. They will help each other in difficult times. And so it happened! I have two girls. Of course, there are not too many children, but not one child yet.



Mom, why should we?



When Miroslav was born, Nastya was 4 years old. During the whole pregnancy we were preparing her for the fact that soon she will have a sister with whom she will be able to play and she will not be bored alone. But, after the birth of Miroslav, Nastya very quickly realized that playing with such a baby would not work. And she began to ask me why I gave birth to her, because she does not know how to play?


She grew up Miroslava, Nastya was growing up. Now and common games have appeared. Nastya could shake a rattle near the crib, talk to Mira, and she, in response, smiled at her. And I could not get enough. But the joy was not long.


When Miroslava learned to crawl and climb on legs, then there came a period of misunderstanding between the sisters. Nastya played already in adults and protected her things from the hands of others. And Miroslava just needed to find something new and touch it.
Efforts did not go unnoticed



My husband and I, as we could, explained to Nastya that she should suffer and be inferior to the youngest. On the contrary, she showed the world around her. Nastya, it seemed to me, listened to our requests.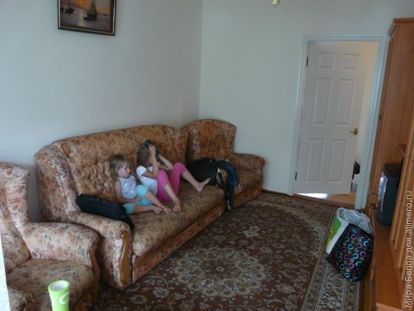 New round



Right now the girls have become very grown up! Miroslav is 4 years old, and Nastya is 8 years old. Miroslava got used to being inferior to her and now began to use it. Achieving her in all possible ways. But we sat down these desires and try not to flow to her.



Time and time again



Sometimes it seems to me that girls behave not as sisters, relatives, close people, but as rivals. Who will ring the first bell, who first hugs mom or dad. But I hope that some time will pass, having matured altogether, they will find common interests. And the sisters will understand that they have no one closer to each other.
And we, in turn, will help them learn to get along with each other.