Maybe one of you still remembers the times when we, then still girls, enthusiastically played doctor or hospital. Now I hardly hear from moms that their children also play this role-playing game. And can we, shake the old and remember the old?
How my son became a doctor
Before school, my son Pasha was often sick, most often with obstructive bronchitis. I was very worried about him. He was so pale, weak, and the cough was harassing him badly. And how he did not like to take medicine!
I kept thinking how to help my little son, and once a brilliant idea came to my mind – a game of a doctor. Brilliant, because thanks to her, Pasha completely switched from his illness to the little animals that needed help.
At that time, we lived quite modestly in terms of finances and I could not buy a real doctoral set for my son. So what! But I had a lot of inspiration and fantasy!

What do we need to play?
We collected old empty jars and medicine bottles, blisters from tablets of various sizes and colors, washed them thoroughly and dried and put them in a box. There also went a bandage, a piece of cotton and a plaster. It turned out almost a real first-aid kit!
Cotton balls and disks, ear sticks, wooden popsicle sticks from a popsicle, a lot of other little things that we began to use for medical procedures went into the course.
Injections were made to patients with a disposable syringe (of course, I threw the needle away). Thermometer cut out of cardboard and made a markup on it. My grandmother had an old phonendoscope lying around, and we also adapted it to the game.
But our greatest pride was the case history, the role of which was performed by an ordinary semi-general notebook.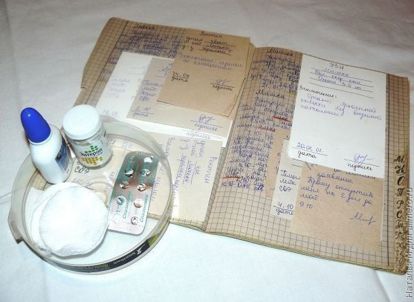 Treat little animals – not an easy job!
I carefully keep this old notebook as a reminder of the wonderful days that we spent with our son.
She was worn out and turned yellow from time to time, lost the cover and sterile purity, but what amazing things in herself conceals! Here is a description of the symptoms, directions for analysis, references, prescriptions, conclusions, statements.
My son and I laughed for a long time when we began to reread these pearls.
Here is Lyuska, our favorite purple rat. This fidget went to the emergency department of our hospital many times and almost all the time with fractures – then the tail will break, then the paw!


But Winnie the Pooh. Poor thing, he was so worried that he ate too little honey, that he earned … hypertension!
Sunny – arrived late in the evening with a preliminary diagnosis of nervous shock. On this day, the moon rose to the sky too early, and the Sun, which had never crossed paths with it before, could not bear such a shock!
I remember how my son and I composed all these sad and at the same time funny stories, how we entered the chronology of treatment in the notebook, filled out recipes and directions. And then during the day we had to monitor the implementation of appointments, and we lived literally by the hour – from one procedure to another.
It was an amazing time of friendship, community of interests and mutual understanding, which, I am sure, remained in the memory of my son.

All recovered!
The doctor from my son turned out just great! And what do you think, all the toys and little animals began to recover very quickly.
We had such a funny toy to determine whether the patient is sick or healthy. It is two-sided: you turn it inside out, and the little man changes color and mood.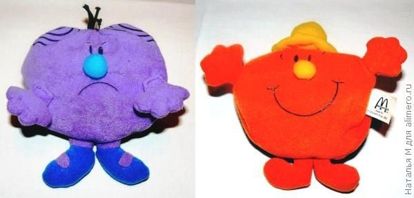 And our patients are increasingly choosing the orange man! And soon I noticed that my son had colds and bronchitis, too, began to pass noticeably faster, and he became much easier to carry them.
Much has been written in the literature about the importance of role-playing games for the formation of the child's personality. To many advantages, I would now add one more – a kind of psychotherapy and psychological assistance to a child who has some problems.