Now, many adults, and children, do not represent life without a computer or TV. The baby is already at an early age watching the manipulations of the father or mother at the computer.
In our family, the situation is this. I spend a lot of time at home at the computer. I write various reports, sit on the forums, select and order products online. But I try to prevent this from interfering with our communication and activities with the baby.
Child and computer
But still, the child sees this from an early age and he has a completely fair need to get acquainted with this technique, which mom devotes so much time to. When the son began to actively crawl, he was drawn to the computer. He got up on his knees and turned on the computer or pressed the drive button. None of our perturbations did not act on him.
Now he knows how to turn on and off the computer, switch the cartoon, put a new one. And he is only 2.8. But I do not consider this to be my achievement, but rather an omission or excessive development of modern children.
I am not a supporter of feeding a child for advertising or various fairy tales. I don't understand people who include a cartoon for 1.5 hours, while they themselves go about their business. I am a little categorical in this matter, the health of the child bothers me more than my own affairs. I'm talking about the age of 2-3 years. We are now watching cartoons mainly on the computer, the maximum time per day is 30-40 minutes.
I understand that a child's communication with technology cannot be avoided, because even programs that teach children to read have been invented, as well as educational games and cartoons. I try to explain, sometimes prohibit, but I do not consider it necessary to spend more time on the computer for the eyes of the child and his nervous system.
I choose cartoons mostly Russians and Soviet ones, the exception is Cars. I do not understand the stories about Pokemon, Teletubbies or monsters with one eye. I do not like films in which the characters fall under the car, fall from a height, shake off and go further. It seems to me that this dulls the sense of danger in children, they think that if this hero did this, then why can't I.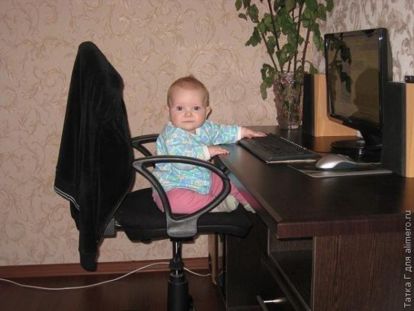 But I was a little distracted from the topic, I want to dwell in more detail on how the computer affects the baby's health.
Eye strain
With a long sitting at a computer, a headache can start and dizziness can begin not only in a child, but also in an adult. Also, if the eyes are heavily loaded, this leads to a deterioration in vision and, as a result, to myopia.
Now there are monitors that have high resolution, so the flickering effect is reduced, and the negative influence of the computer on the baby's vision is also reduced.
The child should sit at a distance of 45-60 cm from the monitor. The maximum amount of time that a child of 2-3 years should spend 30-40 minutes at the computer, but always with a break of 10-15 minutes.
There is such a thing as electrostatic radiation, which is quite harmful. It acts at a distance of half a meter from the screen. Its essence lies in the fact that it accelerates dust, which has settled on the monitor and adversely affects the eyes and skin of a person who is sitting at the computer.
Modern monitors have protective filters that reduce radiation. But you also need to carry out wet cleaning, ventilate the room, and also recommend washing your face with cold water after working at the computer.
Inconvenient and incorrect posture
Children sit at the computer like a horrible. They are so passionate about the actions on the screen, so they sit in the same position, which leads to pain in the back, neck and lower back. And this can lead to diseases of the musculoskeletal system. This problem can be solved thanks to the correct children's table and chair. Those. You can buy furniture that is height adjustable, with armrests, and you can even have a headrest.
Load on the nervous system
At the age of 2-3 years, there is a huge load on the nervous system. Since actions on the screen require concentration of attention and concentration. To reduce the load you need:
– take breaks and watch in a row for no more than 15 minutes
– choose those games, cartoons and fairy tales, in which there will be no blood, fights or obscene language
Remember that no matter how useful and well-filmed cartoons are, they will never replace a live communication child. And also do not forget that the child still has to develop physically. Once again it is better to run and jump with the child than to turn on another cartoon. Think about it.