I will entertain you, reader Alimero, a little with one resort novel that happened to my 5-year-old son this summer. Who would have thought that babies have such serious feelings?
And how it all began beautifully.
This summer, I went with a part of my little family to rest to the sea. We settled in the private sector, with a charming young girl. They gave us a beautiful house, and a small addition to the house. Behind the wall lived the daughters of our landlady: 7 and 5-year-old daughters.
I came with my twins, who are 5 years old. More, except for us, there were no vacationers, so all the attention of the master's children was riveted on us.
The kids quickly became friends. Dasha, my daughter, found a common language with the eldest girl, but the son, Danya, did not take her eyes with little Ani.
I will say that the girl was pleasant, well-mannered, kind and responsive.
At first, I did not notice anything special about my son's behavior. The children played together, they had fun, together they went to the sea, it's easier to say, I got more for 2 children. Did not just spend the night in our house.
After a couple of days, I noticed that the couples were divided. Danya with Anya began to retire. They sat quietly under the grapes, talking, holding hands. It was so interesting to observe them that, unable to endure such an idyll, I asked: How are you together, okay?
The answer sat me on the bench. We love each other, and we will live together, – the son seriously told me.
Of course, just grow up, a little bit – I could hardly find the words. Laughter bursting so that barely restrained. I did not want to break the children's romance.
We are already adults, we are 5 years old, – continued Danya.
But such an argument killed me on the spot.
And laughter and sin. And you can not laugh – the children need to be supported.
– Well, relax kids, – I said and moved aside.
The evening ended, the kids fell asleep, and for a long time she recalled these serious children's eyes.
For the rest of the holiday, Danya and Anya walked by the hand, treated her with goodies, and in the evenings, hugging, they watched cartoons on our laptop. This is the romance, these are the real feelings without falsehood and pretense. This holiday romance. Childish, but real and full of responsive feelings.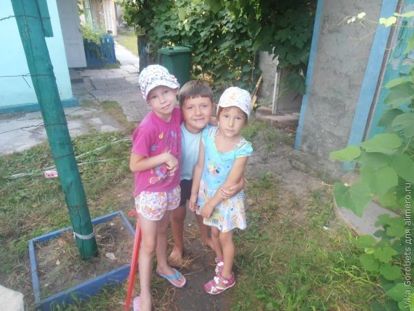 Goodbye beautiful time
It's time to leave. The children did not want to part. Anya cried, and the son, like a true gentleman, promised to return the next year.
We brought a lot of interesting photos, and Danya, reviewing our photos, always for a long time holds the view on his photos with Anya.
Something else lives in his heart, and sometimes comes up to me, hugs me, and asks: Will we go to Anya next year?
Alive is still a memory in the heart of a little boy.
And your kids have fallen in love?