Of course, I suspected that this would happen sometime, but I didn't think that at six! I noticed a long time ago that she sympathizes with one boy from the kindergarten group, but for some reason it seemed to me that this would pass with the end of my studies.
Sasha is a wonderful and well-educated boy, so I didn't see anything bad in the friendship of children. Repeatedly we met outside the garden – on the birthdays of children. Every day, the daughter shared her emotions with me – then she stood in one pair with Sasha, then he helped her to put on a jacket. Each such event was a whole event for her!
One day, Sasha accidentally broke our hair band, and then whispered in his ear that someone will receive a gift tomorrow. There was no limit to the delight of her daughter – she went to bed early, so that tomorrow would come faster, so she could not wait to get a surprise!
As it often happens with men, Sasha forgot about his promise. I took my daughter from the garden in a frustrated way. A week later, Sasha's mom casually mentioned in the conversation that Oh, I've bought you a hoop – I've been driving him for a week, I've forgotten to bring everything to the garden. And how many experiences there were!
But when the gift was handed over, the emotions went off scale. And the fact that at the same time Sasha kissed her daughter's hand already three times, struck her even more, she didn't want to wash her hand after that. And she put a hoop under the pillow for several nights in a row.
And so, the school year ended, our garden was closed. I decided not to drive to the duty group of another kindergarten. But Sasha walks, and even once he said hello to us through a mutual friend of a boy.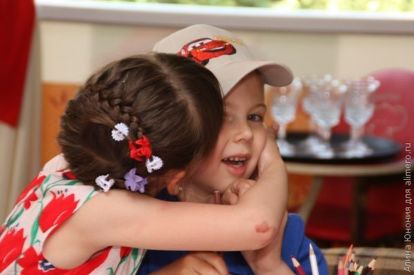 And so the daughter began to miss. Repeatedly, I noticed how she looked at my phone together with Sasha photos. Then we remembered that he had a birthday in the summer, I wrote it to my mother. It turned out that the next day was his birthday! As I inquired in time!
It was decided to arrange a meeting to congratulate the birthday. At the end of the correspondence, Sasha's mother sent me a smile with a kiss, and my daughter decided that it was from the boy. Her cheeks flared again, and we eagerly began to wait for the meeting.
We bought a gift (including a magnet in the form of a heart!), Signed a postcard, chose an outfit and went on a date. Sasha also did not come empty-handed – he treated him with juice and sweets. Although the children have not seen each other for a month, they could not play enough. A girl from our group, who suddenly appeared on the court and broke tete-a-tete, almost prevented the meeting.
Already we and Sasha's mother talked, and the children did not want to part. Sasha taught her daughter to use the sword, and she taught him to play a new game with cards. And only when we promised that they would meet more than once, did the children agree to finish the walk. Sasha escorted us to the front door, and in an hour his mother sent a photo with a magnet-heart in her hands. Needless to say, with this photo in hand, the daughter went to sleep? 😉
That was our first date! Did you have a similar experience?