Actually, I was a primary school teacher by my first education, but once in my life it happened that I had to work as a kindergarten teacher for a while.
Then it seemed to me: well, what's so complicated about that? I studied age psychology, mental processes in younger students and preschoolers should be about the same, only in the former more developed. However, in practice, it did not turn out exactly as I imagined …
They are similar, but they are different.
When I came to the kindergarten, I immediately zealously rushed into battle for the early development of my preschool children. But it was not there!
She brought a lot of books (and then the material base in the gardens was rather weak, you had to buy a lot and bring it from home). Well, I think, wait, how do you develop a speech for your kids! Every day I will read new tales and rhymes.
The first day is Kolobok, the second day is Teremok, the third day I want to read a new book, and the children are in tears: We don't need a new one, read Kolobok again!
I was surprised, but I obeyed. And after reading, I went to a garden psychologist for a consultation.
I still had to deal with younger students! But it turned out that the preschool psyche is much more gentle and vulnerable. Children of this age actively absorb new knowledge, but dosed. They should not be immediately loaded with an abundance of information.
They love the same tales very much, but as long as they don't read one of the holes, they don't usually want to move to a new one. Or they will have 3-5 favorite fairy tales, which they will listen to alternately every day, and the new ones will not be in a hurry to find out.
According to psychologists, listening to the same tale, the child calms down. He as if subconsciously persuades himself: this world is reliable, everything in it is stable and unchanging, I have nothing to fear.
For the same reason, a child always has one or more favorite toys. One toy or one and the same game (in daughters-mothers, in a shop, a construction site) for many days also acts on it soothingly.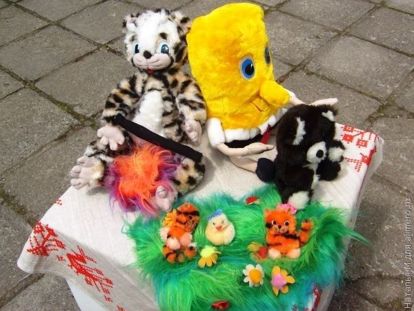 The flexibility of the psyche, the ability to adequately respond to the rapid change of conditions develops a little later, along with the overall development of the child. Then he will be able to perceive more information and not get overexcited from the abundance of impressions.
Developing the speech of a preschooler, it is better not to pick than to overdo
In the meantime, the preschooler's psyche is not yet fully formed, it is better to try not to overload the child with excess information, not to try to give all the knowledge of the world at once. He still does not absorb them, but the rudiments of neurosis can easily be obtained.
Let the speech of your baby develop in a natural way, and you only unobtrusively help this process.
What ways can there be? First, second, and third, these are conversations. Just talk to your child as much as possible. On a walk, on the way, in lines, on vacation – anywhere, except for places where you cannot talk (but, by the way, reduce the number of such places to a minimum, because for a preschooler, especially 3-4 years old, silence is very tiring).
Call the child what you see, ask him what he sees. Look, Vanechka, it's birds. They peck pips. – Masha, you see, what a beautiful tree! It has long twigs and green leaves.
An important point, which I also learned from a child psychologist, is that you cannot replace the names of animals or of some objects with the sounds that they emit. For example, instead of the word doggie to say is woof-woof, or instead of a machine to speak bi-beep.
I was told the curiosities that were at the introductory interview when a preschooler entered school. When the child was shown pictures and asked to name who was drawn there, the poor child replied: This is meow-meow, and this is muuuuu. And funny and sad!
Another tool for the development of speech, as we have said above, is to read fairy tales and rhymes. Most children are ready to listen to fairy tales until they learn them by heart. And the poems themselves are so musical and rhythmic that sometimes they can be easily learned even after 2–3 readings.
It is good to look at books with a lot of colorful drawings and ask the child to name everything he sees in the pictures.
Later, you can even teach your child to make up small tales. To do this, we ask him a chain of consecutive questions, for example, Olenka, and which little animals do you see in the picture? What does a bear do? What does the bunny do? Where did the forty fly? Where is the squirrel sitting? And so on.
There are also special games with words and sentences intended for children of different ages. But about this, I think, you need to write a separate topic.
In the meantime, I wish your children to grow up healthy, happy and harmonious! And let the cargo of science not fall on them too soon!