Every child has a period I myself!, Usually, it occurs between the ages of 2 and 3 years. The kid begins to realize that it is a separate unit, trying to establish its boundaries of influence.
And this independence can not but rejoice. I remember that I often dreamed of a cord in my first year of daughter: When will you wash yourself (put on clothes, clean up after yourself, eat, etc.)?
And finally – after 2.5 years, my child is able to stand up, open a refrigerator, get cottage cheese, take a plate-spoon-cup, pour compote and eat it all! But what to say, sometimes she even dresses on the street faster than me.
It is already possible to give small assignments, the execution of which is important for the child with something important, it is filled with a feeling of trust in me, I am an adult !. And it's nice not to get up from the couch to ask: little darling, remove the laundry from the washing machine or bring the phone (remote control, hand cream).
Warn about consequences
Do not confuse independence with permissiveness. If a child seeks to make decisions himself, it is necessary to explain to him that the consequences of decisions are his responsibility.
For example, my daughter loves to cut. Rather, not only cut, but also cut. I don't feel sorry for old magazines and advertising booklets, but once she expressed a desire to cut a bun from her favorite book. Reluctantly, I agreed, having previously explained that there was no going back. The book is spoiled, but now the combination of scissors and books for my daughter is taboo.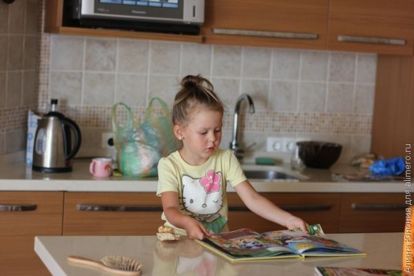 Similarly, with so beloved by many children, washing dishes – if you want yourself, be kind, eliminate the consequences of your activity.
What not to do
Encourage the manifestation of independence in children is necessary! I do not argue, the laces are fastened faster with my mother's help, and cleaning the teeth together takes only 2 minutes instead of the independent five.
But by constantly helping the child, we risk our own efforts to wean him from independence. In adulthood, this is fraught with ignoring domestic work, lack of ambition in school, career, etc.
In no case can not devalue, reproach, ridicule attempts to do something yourself! You, too, do not get everything right the first time. And with your reaction you will at least nip these attempts at the root, and as a maximum, with your own hands, hang the clumsy label on your own child.
Offer your help, but if the child refuses, do not impose it. Such an intensity of independence will not be repeated in a sick adult, forge iron while hot!
I believe that a kindergarten plays a big role in the development of children's independence. There are many babies there, independence is encouraged there (well done, you are the first to get dressed!), The teacher is usually in authority with the children, so they strive to do everything first, not expecting help from adults.
By the way, this is Sadikovsky me – the first! – Excellent bookmark leadership qualities in a child.
Of course, you shouldn't hope that one fine morning your child will get up and run to brush his teeth himself. Any independence is preceded by hard work of my mother's work: it is necessary every day to show, repeat, try to dress together, wash ourselves by example.
By the way, I highly recommend the children's cleaning kit – a broom (brush) and a dustpan. I have not swept the floor for half a year!
And how independent are your children?