Recently, a child often asks questions like Mom. You will not die until I become an adult? And when you die, you do not notice ?. Is it worth worrying about this and how to talk about death to a child?
Typical question?
Why do I focus on this? I remember in my childhood, at about the same age, I suddenly had an awareness of the finiteness of life. That is, I understood that flowers grow, bloom, bloom and wither by winter, that a tree can be cut down and it is more inanimate and the like.
But it was at this age that I realized how vulnerable the human body was. It is enough to knock there, poke there, poke here, and that's it, the person dies. And this can happen with my family, acquaintances, friends, and with anyone!
But most importantly, it can happen to me. And then what? Everything? I will no longer be here, I will not see it all, I will not hear it, I will not feel it. From this new knowledge really became scary. There was no trusting relationship with my mother, there was no one to talk about it with, and she experienced this fear in herself.
Therefore, the fear of my child, who stands in her eyes when she asks such questions, is quite understandable to me. I want to divide it, crush and scatter.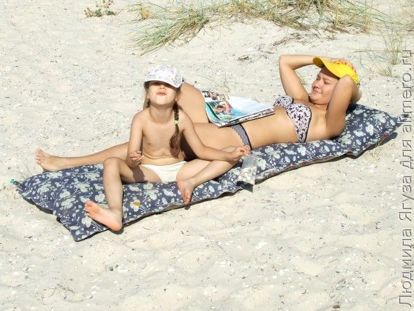 Our conversations
All the child's leading questions ultimately boiled down to two main things: Will you not die until I become an adult? and when you die, you do not notice ?. That is, the main fear of a child is to suddenly be left alone. After her dad left home, this is not surprising.
To deny that I would not die at all for the sake of the child's calm today, I did not. You never know, suddenly something really happens to me, and, know what the child will draw on the account that his mother has deceived him. I tried to delicately explain that sooner or later everyone dies.
Then her question transformed to not die, until I became an adult. I had to promise that I would do everything possible to prevent this from happening: I, on the other hand, go to workout in order to be healthy and not die from illnesses. The child concluded that coaches live the longest. So at least dad will live long.
But just in case, I showed the child how to call the grandmother in case of anything. Indeed, indeed, suddenly I will fall asleep and not wake up, I will not return from the store, and the child is at home alone. How can she tell others about it?
The second question about whether you notice or not when you die, as it turned out – the fear of a dead body. For some reason, it seemed to her that if they die, they immediately become a skeleton, and she will be afraid to look at bones.
For me it was amazing, because in our house there is a model of a skeleton with internal organs. She often plays with him, dresses him, dabbles. But, apparently, one thing – a plastic skeleton, another – mother's bones. I had to reassure that she didn't see anything, and mom's bones.
These are the conversations we have been having lately with a child. Are you talking to children about death?