I am sure that the majority of readers Alimero, like me, grew up on books. I remember that my grandmother even forbade me to read, because, I did it instead of a quiet hour. There are lots of memories – both plots and illustrations.
Despite the abundance of electronic technology, there are many books at home. At first I was not particularly picky when buying, but then I got a taste and started looking for certain publications and was more critical of my choice.
Joint reading perfectly develops memory, both auditory and visual. At first, I was surprised how accurately my daughter remembers the smallest details from what she read – replicas of heroes, some details of appearance.
Our first book was a collection of fairy tales – Cinderella, Little Mermaid, Puss in Boots, The Ugly Duckling, Thumbelina. And after a while I noticed that the child absolutely reproduces the phrases from the book.
Moreover, when I, in an effort to speed up the process of reading, I missed some points, the little one corrected me every time.
Now, when I slowly teach my daughter to read, we get some kind of joint reading – if the font is large enough, I'm pointing at the words I'm reading at the moment. This is how visual memory develops.
Some of the books we have with a special text that is already broken down into syllables, as in the primer, which also makes it easier for the child to learn to read.
Fantasy and creative thinking
These skills can be developed if you not only read, but also discuss what you read with your child. I often ask my daughter who of the characters liked her, who does not, why she thinks so. A lot of questions start with the words And how do you think. Or Imagine that … So we can come up with several finals for fairy tales, mix several pieces, etc.
In books, especially classic works, words are often used that a child will never hear while walking or at home. A large vocabulary, the correct use of words and expressions is an integral part of a child's culture.
For example, I practically do not use such words as crown, amazing, wondrous, etc. While the daughter uses them and many others constantly. All this, of course, from books.
In addition to the actual process of reading a book, close contact with the child takes place. The kid not only listens to interesting stories and examines the pictures in the book, but also feels the manifestation of attention in his address, tactile contact (if you read while lying in bed or hugging), which is very, very important!
Perhaps it is these minutes that will become memories from childhood, do not be lazy to read to your children!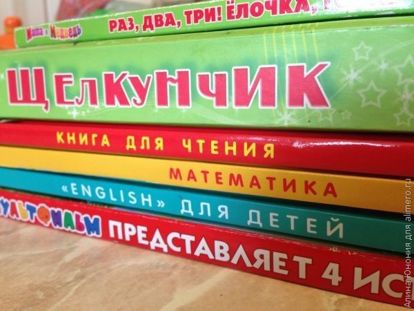 It is impossible to deny the fact that my mother's voice has a calming effect on the child – from that they fall asleep more quickly as a book is read.
In reading, of course, there is an educational moment. I always pay attention to the behavior of the characters of the characters, because in many works there are negative and positive characters. Now we are reading a book about the adventures of Buratino and together we are discussing the actions of the wooden boy and his friends.
I also always focus on the manners of the heroes – in almost all fairy tales they are educated, neat, tidy, use polite words and listen to their elders (otherwise something bad may happen to them).
I will not hide, in our assortment books are not only paper but also electronic. And I believe that the benefits of them are similar except for the lack of contact with the mother. The same illustrations, letters, sound, even pages rustle when turned over. And at the end of many tales there are tests for read material.
Reading greatly influences the cultural development of the child, enriches the vocabulary, has a beneficial effect on behavior, contributes to the development of perseverance and curiosity.
Do you read books to children?