I can not imagine my childhood without a bicycle. As I remember, I had a Salute, in which we drove with a friend throughout the area. On modern bicycles you can rarely see the trunk, and then it was on all models. My friend sat on it, and we drove with a breeze. That is why I almost from birth instill the love of this type of transport for my children.
First bike
Today there is no shortage of models. For our eldest daughter, we bought the first one when she was one and a half years old. He had a handle, three wheels and a comfortable seat. The next model was a two-wheeled, but with two wheels that could be unscrewed. Then there was a bigger bike and, finally, a handsome sports bike appeared in his daughter.
Here I can not boast. The last vehicle came from us in a very unusual way. One organization has announced a competition. It was necessary to write an essay about your dreams. The daughter was then 7 years old, and she herself wrote an interesting letter, I just checked the errors.
Imagine our surprise when a representative of the contest organizers called me and announced that the essay won first place! The prize was the same sports bike.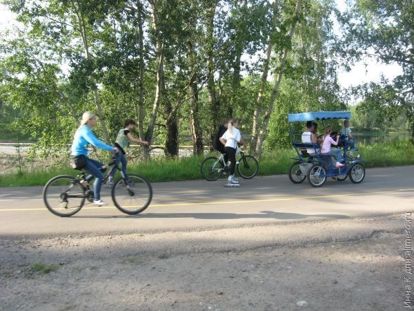 Besides the fact that children get great pleasure from a bicycle, it is also useful for their physical health. When a child pedals, his circulatory, respiratory, and nervous systems work simultaneously. Strain the main muscle groups – arms, legs, back. The kid becomes hardy, his coordination improves.
Another plus of the bike – the child does not need to be forced to ride it. Try to offer your child to do exercises in a stuffy apartment or place in front of him is great. Obviously, he will choose the second type of physical activity.
One of the disadvantages of a bicycle is the opportunity to get injured by falling from it. Just a week ago, I saw how a boy on a bicycle touched a small child, and in this case a pedestrian could suffer as well. In order to minimize the risks, regularly explain to the child how to ride. It would not be superfluous to repeat the rules of the road with him.
In order not to injure the kneecaps, which carry a large load while driving, do not put your child on the bike without first warming up. You can just jump or popricate, then the muscles will be warmed up.
Total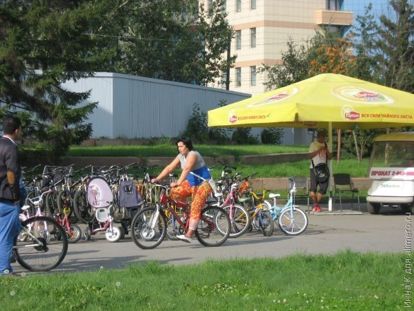 Cycling has become popular in recent years. For example, today we went for a walk in the park and saw hundreds of people: on bicycles, roller skates and just walking on foot. It seems to me that in order for the child to pedal with pleasure, the whole family should join this sport. Moreover, a bike for an adult does not even need to buy, it can be rented.
Do you like to ride a bike?