The other day, our grandfather brought us a list of questions that are asked of children during an interview for admission to grade 1 at some kind of lyceum. I tried to test them on my daughter. Not everything went well with us. But some questions discourage me.
Strange logic
It is clear that the child cannot ideally complete all the tasks and correctly answer all the questions. They are divided into blocks: personal and domestic issues, environmental issues, geographical, school, mathematical, logical, attentive, and so on.
That is, with their help, it is determined in what the child is best oriented, his inclinations. But as far as I remember my trip to the first class, we took this program at school, and not before it. Personally, I was at one time amazing that some of my classmates do not know how to read.
And now the child, it turns out, should already know what syllables, paired and unpaired numbers are, orient in the geography of the country and the world … Although to be honest, some questions from the list frankly surprised me, others were discouraged, and others made me think about their own adequacy.
A few examples
Go through the list.
What other cities of the country can you name? My daughter can only name the city where we went to see relatives at sea, and the village where she went with her grandmother to the country. In my opinion, a child at that age is difficult to navigate around the cities of the country if he doesn't have it in them. The same with other countries.
What plants are symbols of the country? This really discouraged me. The symbol of the country is its coat of arms and there is no need for anything else to powder the child's brain. Any literary comparisons and images will only confuse him. Especially if the child is completely not figurative thinking.
Do you want to go to school? Funny question. As if the child has a choice. And if he honestly admits that he does not want, he will not be accepted? Or another question of tremendous depth – Why is there a school desk? Well, that did not ask why there are chairs, doors and windows.
Well, a whole block of math problems just surprised me. For some reason, I was sure that for a first grade child it is enough to be able to count within a dozen or two, in order to find out later how to count further by analogy. To be able to add simple numbers and all.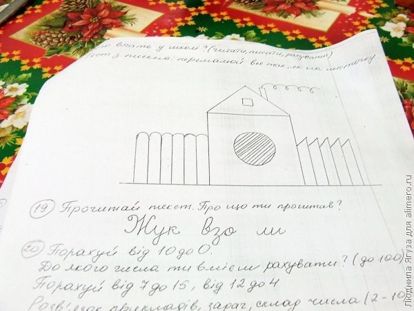 And then there are proposals to continue the series of numbers 2, 4, 6 and 1, 3, 5. Call the number of neighbors to the number 5. How many should be added to 7 to make 9? It is kind of understandable, but the question is intricate. My daughter did not even understand the question.
But how she surprised me was the correct answers to the questions: how many angles are two triangles and how many paws have three geese. It can be seen, in this sense, figurative thinking helps her, and dry figures do not add up. By the way, we passed the questionnaire in several visits – after 3-5 questions she stated that she was tired of answering.
In general, I was once again convinced that correctly I decided not to send her to school next year. Are you ready for testing?