It's probably too early to talk about love at preschool age. But sympathy for their children show, I noticed it on his daughter.
From early childhood, from the time of the pram, we walk with my former classmate and her son Dima, who is several months older than my daughter. We are friends with his mother very closely, the children do the same.
As a result, from two years they go to the same kindergarten group, and in September they will go to the first grade together. Thus, by the way, adaptation and acquaintance with a new team are much easier. Still, the two of us are not so boring and scary in the absence of parents, agree.
At the prompting of parents, Dima, if I may say so, is caring for my daughter. These are gifts with or without occasion (including on Valentine's Day), walks by the hand, help with dressing and other gentlemanly things. Of course, children often quarrel, but reconciliation also happens quickly.
Years from four daughter all those around told that she would marry only Dima. She accompanied her stories with many details about the wedding, dress and limousine. Even a nickname to a friend came up with – lyubivchik. Dima, as a true man, shows his feelings very meagerly about this;)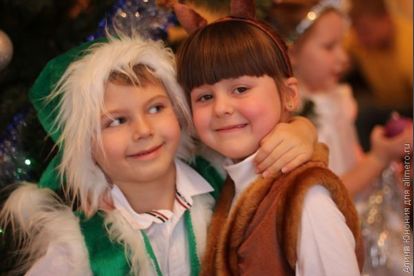 At the age of 5-6 years old, my daughter's social circle expanded – the children became very good friends at the kindergarten, the boys grew up, many new games and activities appeared that can be done together. And if Dima continued to be friends and play mostly with my daughter, then she began to communicate more with other boys.
The reactions of the boys did not have to wait long, every now and then in the locker I found sweets, toys, and even several messages in the form of drawings. And already on the Valentine's Day this year, someone put their daughters very real valentines.
Real passions began – Sergey broke the daughter's hoop and promised in return to bring some kind of gift. Do not believe it, but the daughter did not sleep the night, and in the morning she ran to the garden first to see what it was. Sergey, like some men, promised and forgotten, still waiting for a gift.

Such events are so cute and so interesting, because the girl is just learning to establish contacts with the opposite sex. Periodically, the grandmother comes into the topic with the teachings that there is no need to take the initiative, openly talk about your feelings, etc.
I pay attention to the character and appearance of the boys, their attitude towards girls. For example, I always praise if I see someone giving up a place, giving clothes or helping to carry things.
Of course, in a few years all these kindergarten sympathies and dramas will be forgotten, but we live in the present, we experience and discuss what is happening together. It is very important for me that my daughter share her secrets and emotions with me. Let it now become her habit, and in adolescence we will similarly talk on the same subject.
Do your children have sympathy in kindergarten? How do they express it and what do you think about this topic?