With the onset of spring, I do not leave the house without sunglasses. I do not want to have wrinkles under my eyes. It seems to be too early for children to think about it, and it turns out that they do not need to protect their eyes? I began to think about this quite recently, when we started to go to the sea regularly with the whole family, because there the sun shines even brighter.
It seems to be all simple. If you think about it, then buy it and be done with it. Moreover, there is no lack of choice. And frankly, we did. Bought the youngest daughter inexpensive little glasses, and the older model was chosen by her dad and purchased something very fashionable. But I continued to doubt everything and decided to get the opinion of an ophthalmologist on occasion. I will try to tell you in detail about what explanations the doctor gave me.
Is the sun only good?
Of course, it is very useful for children to bask in the rays of the sun, especially for those who live in Siberia. There is even an expression that the summer lasts for 1 month and it seems to be true. But at the same time, for the eyes the sun's rays are not such a useful thing. UVA – spectrum A rays penetrate the eye and can damage the lens. And UVB – the rays of the spectrum In can cause burn the eyelids, conjunctiva and cornea.
So you and warmed in the sun! You can, of course, put a baseball cap on the child, but its visor does not always cast a shadow on the face, because children do not sit still. Therefore, I decided this year to definitely invest in good sunglasses.
Glasses material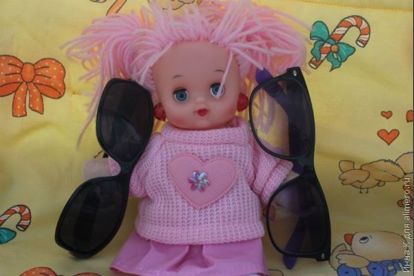 When buying you need to pay attention to the material from which the lenses are made of glasses. I dismiss glass because The youngest daughter likes to fall on level ground, acrylic can give distortion. But polycarbonate plastic is perfect. It is light and durable, does not distort the image and is difficult to scratch.
I remember that in my childhood I had glasses in the shape of a cat with blue glasses. Everyone in Sochi bought such. True, I practically did not wear them, they were uncomfortable. It turns out that she did the right thing! Blue color makes the sun brighter. And preference should be given to gray and green, but I hardly imagine my children in green glasses.
The usual black, brown and red lenses for us are tiring on the eyes, so they are not quite suitable for children.
But this is perhaps the most important thing that should be in children's sunglasses. Without it, there is no sense in them, because harmful rays penetrate the lenses and fall on the retina and lens of the child. To determine by eye the presence of a UV filter does not work, it is better to look at this information in the instructions for the product.
5 levels of UV filter
– 4 – passes 3-8% of radiation
– 3 – skips 8-18%
– 2 – skips 18-43%
– 1 – allows 43-80%
– 0 – skips 80-100%
As far as I remember, I now have glasses with the 3rd defense. For the city, they are perfect. I wear and do not even feel them. But for the coast, they will be rather weak. For children too dark glasses should not be taken, I think, 3-2 protection will be enough.
With the parameters decided, it remains only to choose the appropriate points!
Do you think children need sunglasses?