Now in all kindergartens are children's matinees. Preparing for them requires parental expense and imagination. In modern stores it is not difficult to find a suitable costume for a children's holiday, but I prefer to spend the minimum. I want to share with you little secrets that will save on a suit for a child.
As a rule, such an outfit can be put on only two times, at a matinee and at the New Year's Eve. I see no reason to buy a super-expensive outfit for this.
If you are able to sew, and even if you are half a layman in this business, you can make an original costume with your own hands.
I remember how my mother made me as a child frog costume from green bows. She then sewed on a child's typewriter 🙂
Last year, I made a dress for our daughter, which we put on just a couple of times in the summer. I ripped off the bottom of the dress, which was blue-red. The top was white. Then we needed a snowflake costume, like this year.
Armed with fantasy, lace and various beads, I made a summer dress in a snowflake costume. As you understand, besides time I did not spend anything on such an outfit.
Lovers of knitting can come up with an outfit and crochet it. For this, it is not necessary to be a super professional. You need to know the basic ways to crochet. In addition, your outfit will be copyrighted and you can sell it to someone else.
Borrow from a friend
This year I also did not want to spend money on a costume for a matinee, therefore, I took the dress from a friend. The past outfit was already small on us. We used the crown last year. True, the dress was creamy pink, but my daughter looked very beautiful in it. I also crocheted the bolero, because the shoulders were open.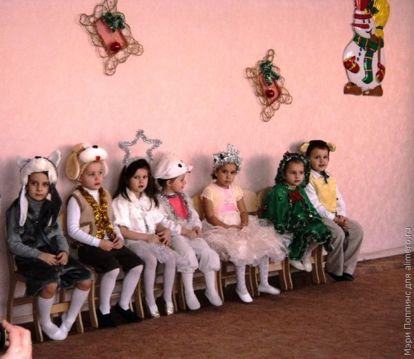 Buy a used suit
On the Internet you can find many ads for the sale of children's clothing. If you do not disdain to wear things after someone, you can buy a used suit for a child. The price of such things will be minimal, and the appearance will not be very worn out.
In order for your child to look beautiful and elegantly at the matinee, it is not necessary to spend much money. You can choose economical options that are suitable for you.
In addition, it is very interesting for me to sew clothes myself, since I love needlework. If I have time, I will make a ladybug costume for my daughter for the New Year. I just have two pieces of black and red fabric idle around 🙂
And what ways do you have to save on a suit for a matinee?