Formation of spring wardrobe for my daughter, I began to engage in December. I already wrote that I order most of the clothes from the USA, especially since in December all online stores had good discounts on children's clothing. The relevance of the collection is not important to me, therefore, I usually buy up the remnants of the previous ones.
Every year the daughter prefers dresses and skirts more and more, which makes me very happy. For kindergarten, I purchased several knitted dresses with long sleeves. When it gets warmer, they will be able to walk outside.
Dresses I usually take on a size smaller than the rest of the clothes. My daughter will be 4 years old in May, but I have a pretty tall one — now she is about 111 cm tall and weighs 18 kg. I order all clothes for 5 years of age (in the USA it is 5T), but I like shorter dresses and skirts – I take them in 4T size.
Back in the fall, I bought excellent denim sundresses at a sale in Gloria Jeans (Russian brand) – I have no complaints about the quality. 2 sundresses is enough to make a variety of clothes for kindergarten.
I also successfully outbid a scarlet-colored skirt with heart-shaped pockets and a fuchsia velvet sundress from a friend who did not fit her daughter – all HM.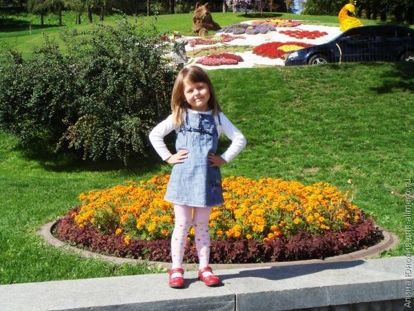 The daughter loves this cat so much that every season we can't do without her presence. This spring will not be an exception – they are waiting for their olympic shirt (sports jacket with a hood), a hat and shoes with this logo.
The package with shoes, by the way, I received just the day before yesterday, just in time for the spring matinee. Do not believe it, but the daughter even slept with them.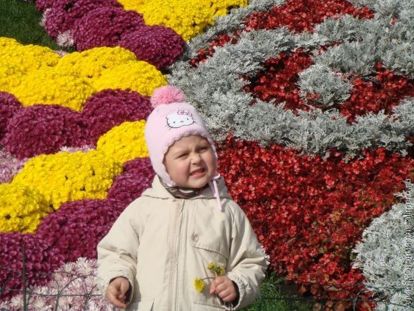 In December, I was lucky – I bought an excellent demi-season jacket on a padding polyester for only $ 20. Its initial cost was about 80, but the last size remained, just necessary for me. True, the color of the jacket is gray, but I am sure that the bright scarf and hat will help me.
Then I bought an excellent vest with a multicolored strip (somehow it turned out that most of the things my daughter has are striped). We have a great red vest, brought from Italy with the Formula 1 logos, but the daughter refused to put it on, citing the fact that she is a man.
Mad with low prices, I bought 6 pairs of jeans in different colors. Two of them have already sold her friend, there are four left. I really hope that my daughter will not grow as fast as before, or else the rest will have to be sold.
Already arrived 5 long-sleeved T-shirts with a variety of prints – with Dasha, tracker, Angry Birds and princesses. Such clothes are a great option for a cool evening.
Just today I am placing an order for another 5-7 long and short sleeve T-shirts, because in the US there is another promotion for some holiday, T-shirts cost a few dollars per piece.
I've been buying tights, panties and socks for years in Gloria Jeans. I am informed about sales with a message on the phone, which is very convenient. A few weeks (a set of 7 pieces) panty enough for 1 season. I am also very pleased with tights and socks of this company. Yes, they are a bit more expensive than the market, but they are not so washed and stretched.
Just yesterday, I bought 5 pairs of white golf courses on sale at the stock store. Both I and my daughter have the most tender feelings for golf.
As popular wisdom says, sleds need to be prepared in the summer. Therefore, do not be lazy to do spring wardrobe for the child in the winter, so you will save some amount of money.
Many are afraid not to guess the size of things, ordering children's clothing on the Internet. First, an unsuccessful purchase can always be sold or peredarit. Secondly, if you buy products of one company, then after the first purchase you will know what size is right for your child.
Have you already prepared a spring wardrobe for your children?