When I was a little girl, I had a lot of toys that my parents bought me for the holidays. To say that there were a lot of toys would be wrong. They were enough to play role-playing games.
I had a few dolls, a big tumbler doll, a huge bear, a few little animals, a stroller, and some other little trinkets. Over time, added toys younger brother. Having united toy warehouses, it was possible to roll dolls on typewriters and bring bread to the store.
Sewing machine from my childhood
Among all that I was given, the most important and precious toy was a baby sewing machine. Perhaps this toy has influenced my life, because now in my house you can open a sewing studio, and I sew not only for my family, but also for friends to order.
Yes, many years have passed since then. Now I have an eight year old son. When we stayed with his parents, he found my old baby sewing machine and firmly decided that now he would not need my mother's help when he needed to sew trousers or a T-shirt.
Modern sewing machine as a gift
The neighbor girl also decided that she must learn to sew, and for this she urgently needed a sewing machine for her birthday. It was somehow not very beautiful to give a Soviet toy with small chips for a birthday, so I had to run around toy stores in search of a typewriter.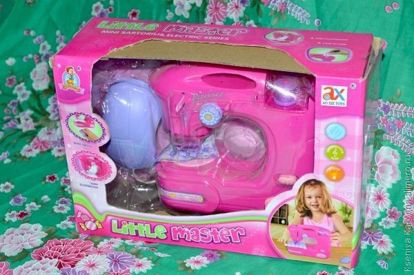 It turned out that there are only analogues of the Chinese manufacturer. I had to buy what was on sale to please the birthday girl. At home, I decided to take a closer look and decide which toy is better: Soviet or Chinese.
Which toy is better?
I just wanted to say that Soviet toys are better, as they are made of reliable materials. Some parts are made of metal, while others are made of durable plastic. This design is difficult to break. For example, my children's sewing machine is more than 20 years old and it will last the same, if not more.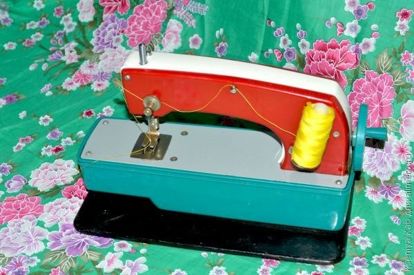 As for the Chinese modern analogue, then the materials of which the toy is made, you can safely put big and fat minus. Plastic is very tiny. I think that if a sewing machine accidentally falls off the table, it will be her last fall.

But, there are pluses. Modern children's sewing machines are equipped with special legs that do not allow children to get hurt while sewing. Even children from the age of three can easily sew and can never put a finger under the needle due to the protection on the foot.
There is one more very important difference modern toys from the Soviet. Modern sewing machine powered by batteries. It is controlled by a special mouse, which is very similar to a computer mouse. I don't know whether it's a plus, but it's much easier for a child to press a button than to turn the wheel of a sewing machine.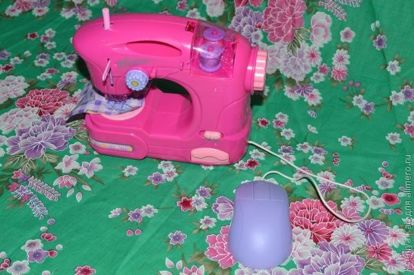 Chinese sewing machine plays music. It would seem very funny. Everything turns out to be rather sad, since the music does not turn off and constantly plays if the sewing machine is turned on. You don't want to listen to a music machine for a long time either for a child or for an adult who is nearby.
It is good that progress moves even toys towards modernization and improvement. They say that everything new is a long forgotten old. But I want so much that everything would really improve, and not be modernized in order to reduce the cost of production in order to get more manufacturer benefits.
What do you think, which toys are better: Soviet or modern analogues? What kind of toys from your childhood play your children?