My little yellow-haired sparrow, still such a crumb, but already a person. Watching how the son takes the first steps and mistakes, gains life experience and rejoices at the first victories is very touching.
It is worth living and having children for this. For this you can sacrifice your life, ambitions and career, if only to support your child, teach everything you need and convey a positive experience to make it easier for him to follow the path of life.
I hope, with my care, advice and experience, the son will need up to a certain age, and then let him fly alone on his strong wings. In the meantime, he is just beginning to live, make friends and even love.
One day, the son came from kindergarten some kind of too quiet. I asked what was the matter, but at first the child did not want to tell (he was going with his thoughts).
I did not put pressure on the child, but I did not let this situation out of my sight. After another hour, when I was doing housework, my son approached me and asked me if I could tell you something in secret.
Looking at the child, I realized that it was something important for him. She smiled, hugged, and he leaned against her ear and said: You probably say that I am a fool, but the girl kissed me today.
You are a nice boy!

Why the child had such a reaction, I still do not know. Why a fool? What's wrong with that? I had to slowly figure out what kind of girl, why he decided that I would call him a fool. Everything turned out to be very simple: the girl from the group sympathized with her son and today she dared to kiss him. So she decided to draw attention to herself.
I have a very nice and kind boy, and you are a beautifully raised, beautiful child, so the girl likes you. What's bad about it?. So I convinced my son that if a girl loves him, then it is even good!
The only thing that bothered me was that it was too early for children to have the courage to express their feelings. But this is children's sympathy and nothing more.
Continuation of a story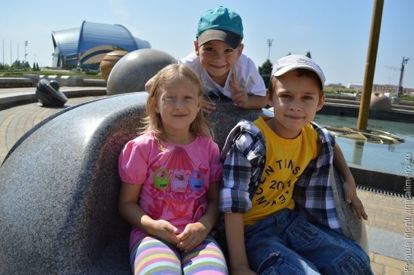 After graduation in kindergarten, we learned that the girl would study with her son in the same class. The girl still expressed her feelings for a year, and my son sometimes treated her to candy and gave her field flowers, which he could find in the schoolyard.
Children grew up and about 2 years have passed since the first kiss. The girl is not so much sympathy. Here we are girls are not permanent. And if no joke, I am very pleased that the child trusted me in a difficult and controversial situation for him. This means that I educate him in the right direction.
What should be my reaction?
But how to respond to such a situation is still not very clear to me. It seems that I coped with the task of my mother, but I thought that such questions would arise a little later.
And when your children first sympathized? How did you react?