In my childhood there were many sports hobbies: cycling, swimming, skating … Therefore, I also try to teach my children from a very early age to such a way of life. In our Siberian climatic conditions, the winter lasts for half a year, and all this time we are trying with our eldest daughter to go to the rink. The benefit is located near the hockey club, and on its chic ice you can ride.
At what age to put on skates?
If you think that this article is about how to teach a child to skate in two years, then you are deeply mistaken. Of course, I want my children to grow up sporting, but not to that extent. The first time we brought the eldest daughter to the rink when she was 4 years old. That winter she had not rolled yet, but only hung on me, and I drove her over the ice. It was not only scary to let her go, but also dangerous.
At the age of five she was presented with the first skates. We went to the rink, and literally in one day my daughter learned to skate. Apparently, it was just the most suitable age for learning.
How to teach skating?
Before you teach a child to ride, you must teach him how to fall! It is necessary to fall not forward and back, but on one side. It is better to work out the falls at home, on a soft mat, and then fall on the ice.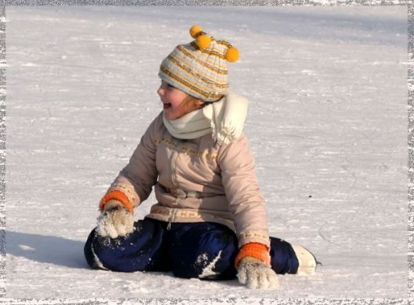 Learned to fall, now we go out on the ice. Encourage your child, even if he will stomp the first time for you, and not to roll. The main thing is to overcome fear! Show your child simple exercises:
Fir-tree – we put the heel of one foot to the middle of the foot of the other foot almost perpendicularly and roll in such a way that a pattern in the shape of a Christmas tree is formed behind us.
Flashlights – we accelerate and make our legs narrow and wide.
Snake – accelerate and draw with your feet two parallel wriggling lines.
Also pay attention to how the child is standing. Stretching to stand on the ice to stand on the ice, and even more so do not need to go! The child should slightly bend the legs at the knees, slightly bend the body forward so that the center of gravity is not transferred forward or backward. Hands on the sides to make it easier to keep balance. Well, your child is already rolling!
What skates to choose?
Very often we hear from parents that sliding skates (in several sizes) are not skates, and it is better to buy regular figured ones, like in our childhood. But our first pair was the sliding one and I can say that it is not only convenient, but also profitable. Buying skates for the child, from which he will grow up next year, is not very practical.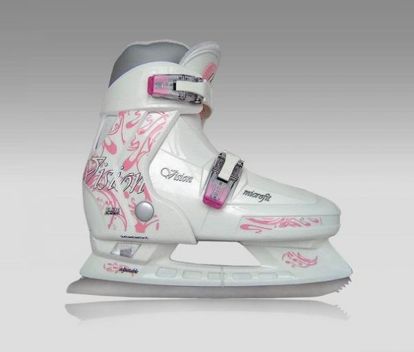 Sliding skates have an inner boot that warms the foot further. It is very easy to fasten them with special rivets, while ordinary ones have to be laced together. Now we have just the usual, because my child has a leg like an adult. I have to string skates for me, because she can't do it well.
There is still a long winter ahead, do not sit at home, for sure somewhere near you there is a skating rink, and skates can be hired, if you don't have your own. Smooth ice to you and fewer falls!