I think many mothers are familiar with the situation when toys quickly bother a child. So my two-year-old daughter has the same story. We somehow noticed the time of the game, and it turned out that she could do one thing on the strength of 10-15 minutes! Therefore, I have to invent all new toys for the child. I hasten to share with you our latest inventions.
I have to quickly make toys for my daughter, otherwise she will lose interest in them at the manufacturing stage. We put all these little things in separate envelopes or boxes so that they do not come across and were always new. You can do this kind of handmade on the road (for example, on a train), at a summer cottage in summer, when the weather is bad or a child is sick. So…
Multicolored dresses


What is required: pencils, paper, candy wrappers from sweets, any colored paper, scissors.
My daughter is a big fashionista and wants to wear only dresses! I will tell you more, a couple of times I had to put it right in the next dress, because she flatly refused to put on her pajamas.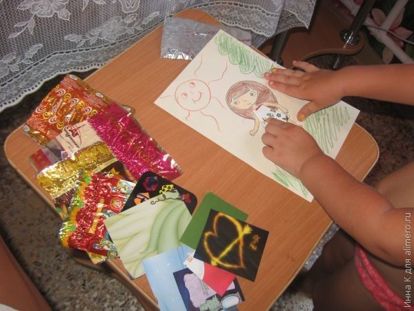 Therefore, we decided to make just such a paper doll in reverse. We draw a girl and cut out, but not her, but the dress! Now you need to stock up with multi-colored pieces of paper and candy wrappers from sweets. We impose a doll on a candy wrapper, and she appears in a new beautiful dress!
Idea: instead of paperwork, you can use rags that remain with you after sewing. Then this game will become even more developing, because the child will touch the cloths of different texture and density.
The most fashionable outfits


What is required: mother's fashion magazine and scissors.
We had so much fun with our eldest daughter when we traveled by train. Try to ride for four days in the car and you will come up with even more intricate entertainment!
So, we cut out fashionable clothes from the pages of magazines: dresses, trousers, sweaters, tops, etc. We also select someone's photo in full growth, so that at least approximately this girl would fit the size of the cut out clothes. Now you can dream with your daughter and create your own fashionable ensembles by combining carved clothes.
House


A house from scrap materials appears regularly in our apartment. You can build it from sheets and clothespins. We stretch the sheet between the pieces of furniture and for convenience we fix the clothespins. We put a rolled-up blanket in the house so that the children can comfortably lie there. My, for example, like to watch cartoons in such a refuge.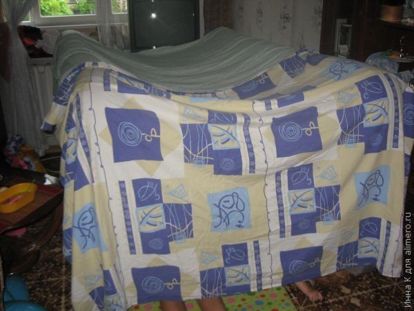 Idea: the last house we made from 2 parts of an inflatable bed. And what, the walls turned out strong and if they start to fall, they will not crush anyone.
Fishing


What is required: a magnet and a rope or fishing rod from the game Fishing, paper clips, paper, colored pencils or images of fish from the magazine.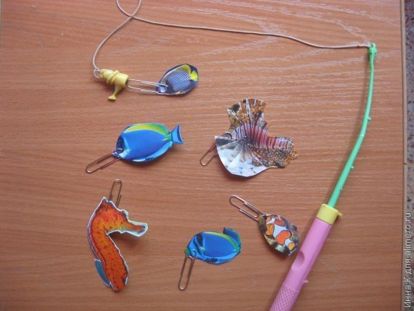 Everyone knows the game of fishing, where you need to catch fish swimming in the water. We only have a fishing rod with a magnet, and the fish were confused. Instead, we decided to catch fish on land. Just the daughter was unwell, and she needed to comply with bed rest. We cut out the fish from the magazine and fastened the clips on them. We scatter sea creatures, and the child happily catches them.
The idea: if you have soft puzzles in the form of fish, then paper clips can be attached to them. Then you can play with real water, they do not seem to have to spoil.
Swing


What is required: a matchbox, thread, needle, a place where you can tie a swing and a small doll.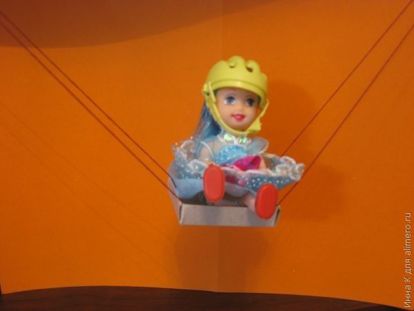 The second thing your daughter likes after dresses is a swing. So I had to arrange them for pupsik. We take the boxes, fasten them in 4 corners of the thread and tie them to the drawers of the dresser. Our doll in a helmet, because She is an extremal with us and asks to be rocked very strongly.
Race for survival


What is required: typewriter, thread, pencils or pens.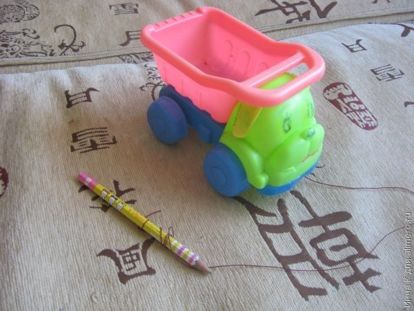 This is a game for two or for a company of children. We tie one end of the thread to the typewriter, and fasten the other on a pencil. Now you can arrange a competition. Children should sit on one line and place their cars at the same distance from themselves. At the command of the judge, it is necessary to twist a pencil so that the thread is wound onto it and the machine moves towards the participant. Who will drive the car faster, he won.
We hope that these games will help to entertain your baby!