Sometimes you observe how young children try to imitate their elders. In fact, this is normal, but when brute force occurs, it causes bewilderment, at least.
Resting this year at sea, I watched the children and their parents. People are all different, different wealth and different perceptions of beauty. You can see little fashionistas, gentlemen and ordinary kids in shabby shorts and with knocked down knees. The world is wonderful!
Children and decorations
In the light of new trends, it is fashionable to decorate a child, I noticed. I have nothing against the pierced ears. But when diamonds sparkle in these ears, it is not by age. A chain wider than more children's fingers, generally cause me a shock. A cross on the neck is a useful thing, but when it does not delay the fragile neck of a 2-year-old baby.
And now about the girls, the little victims of my mother's experiments. Well, earrings, rings – why should 5 year old babies have a gold bracelet on their feet, and even on the beach! Let the bad money, not for me to judge them. But this is all I have my opinion.
My girl is growing up, now she is 6 years old and, of course, she is reaching for beauty. She wants to use her mother's cosmetics and jewelry. At first, I was a little about her. But when she broke off my pearl necklace, I realized that everything had time for her and it was time to switch to children's jewelry.
The child does not understand the value of what he wears. The high cost of jewelry rather flatters parental vanity, but for a child it's just a brilliant little thing.
My daughter loves beads and bracelets. He loves everything brilliant and colorful. I bought her shell jewelry, beads and sea pebbles. Less than half a day, as she lost one bracelet. I did not scold her, it's the children! But as practice has shown, that a bracelet for $ 100 is not so bad to lose, you can always buy a new one. But gold jewelry with such ease can not be filled.
Therefore, I made certain conclusions for myself:
First of all, until a certain age, wear expensive jewelry on a child. I am not saying not to buy them, but in my opinion, the child should wear them consciously and understand their value and value.
Secondly, There are places whose visit does not involve wearing expensive jewelry. In particular, these are beaches, sports clubs, various playgrounds. The child can easily lose the thing given to him and will not notice the loss.
Thirdly, jewelry can cause robbery. There were a lot of such cases in our city, even with tragic finals. Letting one child go to the disco, hung with gold chains and rings, is not the best way to show your well-being.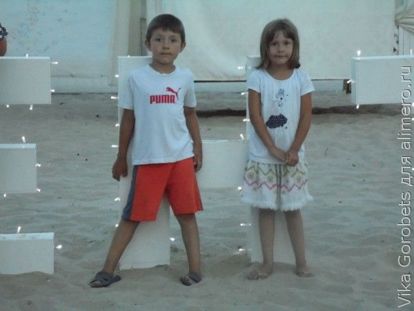 Therefore, let the children grow up, and wait for their decorations in a casket!
What do you think?