Recently saw a friend. She told me that her daughter is often sick. I asked if she tried to temper her? To which a friend told me that the daughter was still small.
And they are almost as old as ours, they are 3 years old. Her daughter is even 3 months older. We began to harden our girl from last summer. She was only 2 years old then. And I also thought she was still small.
Need to temper from birth
Our pediatrician has told us repeatedly that tempering a child can and should be done almost from birth. But our daughter grew very painful.
I used to think how to temper it ?! My child is sick all the time, and they offer hardening. I thought that here we will recover, then we will begin.
Summer is a great time to start hardening.
It so happened that last summer my daughter and I went to my mother-in-law to the country. They live there with their father-in-law from spring to autumn. And the father-in-law began to harden our child. Yes, and me at the same time!
At first, I was wary of all the procedures. In the morning the father-in-law woke us at 6 o'clock in the morning. Imagine ?! Do you know why? In the dew barefoot walk! I could not get used for a long time, all was afraid that my daughter would be sick. But after a few days I realized that my daughter likes such walks. Yes, and she is not going to hurt.
After walking through the dew was washing from the barrel. In the evening, the father-in-law took water there. And in the morning we had fun washing! He held his daughter in his arms, and she almost splashed! My daughter has a wash – my father-in-law has a morning shower!
A uniform in the country for the child – panties and panama. And even if the day was overcast, all the same! We brought so many dresses and sarafans, and as a result several times they went to the store and that was all.
Another father-in-law bought an inflatable pool. There, our daughter splashed almost all day. He even taught her to swim! At 2 years old! I was shocked, but noticing the calm look of my mother-in-law, I decided not to interfere. I trusted them.
At home, my daughter and I also temper. She goes home all autumn and winter in a light T-shirt and panties. Takes a douche. And she likes to shower cold water. And at the insistence of her father-in-law, I stopped wrapping her in warm clothes when walking on the street.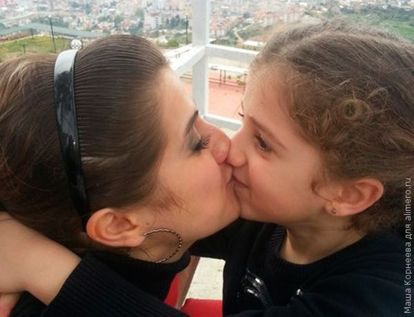 And the result – the daughter became less likely to get sick
Now my daughter is 3 years old. This summer we will again go to the cottage to the grandparents. For the first time ever, my daughter did not get much sick in the winter. There was once a sore throat and cough, which quickly passed. But even on such days, we continued to harden. Truly said my father-in-law, that all power is in hardening!
Do you think it is worth hardening a child? How do you do it?