My daughter never really liked modeling clay, although for the first time we tried a year. All she likes is to twist balls and make beads for dolls. If fakes are made, then only with my mother.
It is known that during modeling the right hemisphere develops, which is responsible for creative thinking. However, the main thing that makes modeling is the development of fine motor skills. It does not matter what the child molds, the main thing is that he does it with his own hands. Even if until the baby only rolls and balls are obtained, it is still useful.
The development of attention, logical thinking, coordination and imagination depends on the development of fine motor skills. Previously, I did not pay attention to motor skills and did not even understand what it was for. Only with time, when my daughter did not want to talk for a long time, I realized that it was speech that largely depended on the development of fine motor skills.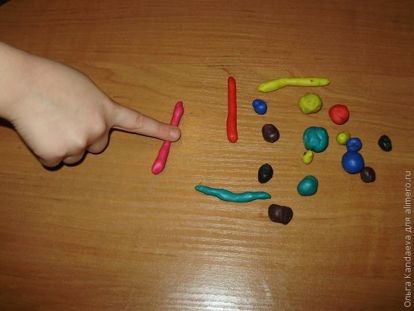 For modeling use any kind of clay. Now you can find a look that is completely made from plant materials. If the clay gets on the carpet or carpet, it can be easily removed with warm water.
However, it is better to prepare for this process, that is, to start a special plate for modeling, and it is better to cover the table with oilcloth.
As for handicrafts, a lot of options can be found on the Internet. In addition to clay, you can use chestnuts, nuts, cones. My daughter and I, when she was two years old, made a beautiful Christmas tree out of cones. We stuck colored balls of plasticine on the lump, they were of different colors.
The very Christmas tree was installed on a hill of plasticine and on a piece of cardboard. Then we smeared the whole Christmas tree with colorless glue, and poured on many semolina on top. As a result, we got a beautiful Christmas tree, which we gave to our grandmother. This first hand-made article is still kept by her. Now we also decided to make such a gift. However, now the daughter copes herself.
In fact, there are several techniques for working with clay. Later we tried the version of drawing clay. To do this, create a scheme of the picture, which can be colored, as if spreading clay. Only initially it is necessary to make small balls.
In general, all crafts are based on the basic elements – rollers, balls and dice. Thus you can make any hero of cartoons or fairy tales. However, sculpting animals and people is a rather complicated process, so the child should be helped here. To increase his interest in modeling, it is important to tell a story or a fairy tale.
Does your child like to sculpt? What crafts do you do?