In kindergarten, scissors are given to children from the age of five, so parents make handicrafts using scissors at home. However, my daughter has quite tender feelings for scissors since the age of three.
In the house next door we have a large stationery store, in which we have already bought 5 pairs of scissors, this is not counting those that we bought for gifts to friends
Three more pairs of children's scissors of different colors – with handles in the form of a giraffe, blades with butterflies and just pink. Fortunately, they are inexpensive – each pair cost no more than 40 p.
The daughter is left-handed, so we have scissors for left-handers. They have blades arranged differently, on the contrary. And it is incomprehensible to me – why the daughter masterfully copes with any scissors, and I (right-handed) absolutely cannot cut a model for left-handers.
We have curly scissors – they have blades in relief and they cut them in a zigzag. Although they are childish, the blades are quite sharp, and it is inconvenient to cut them, perhaps, just not lucky with the model.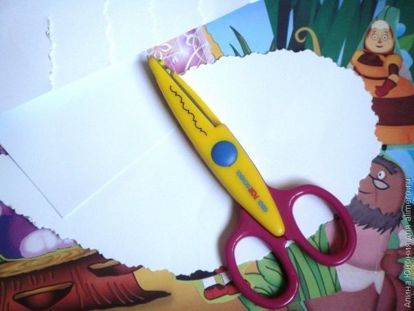 By the way, all of them are marked for children from three years old, the ends of the blades are rounded and we have not had a single case of damage with scissors.
At first, I gave a pack of colored paper to be torn apart; however, as practice has shown, ordinary magazines are much more in demand – my daughter cut out beautiful aunts and animals along the contour.
After several months of practice, she already managed to cut out the desired shapes, without contours. For example, cut a circle, square, triangle. Later I complicated the task – I asked to cut out figures of different sizes.
At one time my daughter had a passion – to cut out only certain shapes, for example, thin stripes or small squares. The main thing – do not forget to remove it all.
Fascinating occupation


Quite by chance I saw albums for carving in a bookstore and bought three at once – with Luntik, princesses and Masha with the Bear (cost about 80 rubles each). Each album has 10 tasks consisting of two sheets – one background, and the other with images of characters and a scheme of their location on the background sheet.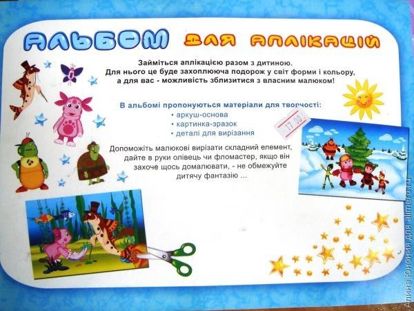 Do not believe it, but the daughter was not heard and visible for almost two hours – she stubbornly cut out the characters and glued them to the background according to the instructions. It is better to take the glue in a pencil, it does not need to dry, and it is more convenient to use.
Such activities, of course, develop the child's imagination, his creative abilities, accustom him to accuracy, perseverance, perseverance, and patience.
Of course, not without the use of scissors for other purposes. Some dolls and cats had their hair cut. However, when the daughter was convinced that the hair does not grow, she stopped the experiments.
I am sure that you should not give scissors to children under three years old – the probability of an accident is high, and even at a younger age the child is still physically unable to deftly wield scissors without harming himself and others.
Explain in advance that you can only cut what is issued by the mother. Curtains, clothes, money and documents are not included in this list. Scissors can not be played, as with any other sharp objects.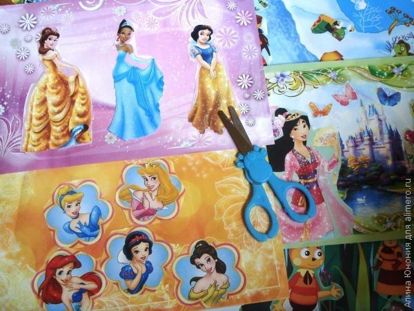 Considering that my daughter is completely indifferent to modeling, puzzles and board games, cutting out was for me to some extent a salvation. In order not to include cartoons once again, I give her scissors and stuff while I, for example, cook dinner.
Try it, maybe it is the lessons with scissors that will bring newness and diversify your child's creative skills!