Realizing that in school my child would benefit from such a skill as the ability to retell what was read, I tried to develop this quality in his preschool age. After all, the entire school curriculum is built on reading and retelling the read text.
I learned about the main ways to develop this skill:
1. To make a story based on plot pictures.
2. Disassemble the text, highlight the main storyline, the heroes of the story, the sequence of events. (I asked questions about the content of the text, and then the child himself told it).
3. A child drawing pictures-tips to help retell.
I note that the level of speech development in a child directly affects the ability to retell.
Scenic Pictures on the Internet


Now on sale and on the Internet you can find ready-made sets of plot pictures for which it is easy to make a story. I also used such kits. In each of them there were two – three pictures that had a common plot or cause-effect relationships.
The child and I made up stories on these pictures, gradually increasing their number. These classes contribute to the fact that the preschooler develops a coherent speech. When our son went to school, we did not give up this occupation, helping him to assimilate the school curriculum.
I am sure that thanks to the examination of the pictures, my son became more attentive, he developed thinking, as he needed to understand the content of the pictures. In addition, in order to link the events depicted in the pictures, it was necessary to detect a space-time, cause-effect and logical connection between them.
Sample job


My child and I performed such an interesting task. I mixed pictures from different sets and asked my son to arrange them in sets in such a way that a single plot would be made everywhere. Then he needed to make logical chains in each plot, and tell what happens in all the stories.
I never hurried to correct the baby, tried to listen to him to the end. It is possible that he will be able to find some kind of his own logic and convince us that he is right.
Moments that need attention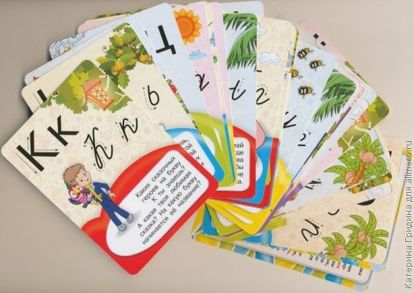 1. For the child to find a connection between the pictures.
2. So that the child is not distracted from the theme of his story, did not do a lot of repetitions.
3. So that the child would use common sentences in his story, invent a story, and not list the objects and characters in the pictures.
4. For the child to use all the variety of speech: adjectives, adverbs, concepts of a generalizing nature.