My daughter barely waited for spring to visit the children's rides again and again. However, they, as well as during any other children's entertainment, should observe safety rules to exclude injuries.
This is one of the most favorite daughter's attractions. We have a small trampoline in a shopping center (about 3 by 3 meters in size), and in the summer a similar option and larger models are installed directly on the embankment.
Children under three years old must be accompanied by adults, so I had to jump several times. In principle, if the child is alone on the trampoline, then the probability of injury is minimal. The danger usually comes from other active children, who at any time can push or accidentally hurt the baby.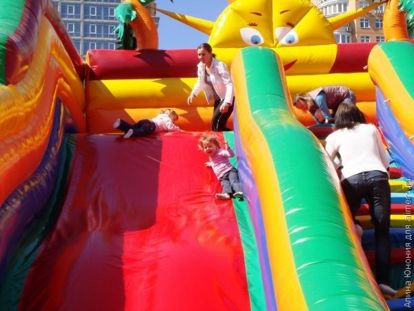 That is why I advise you to visit the rides in the least peak time – in the morning on weekdays, for example.
Inflatable slides and cities
Again, up to three years is better to jump with your parents. Moreover, often in such constructions there are quite a lot of obstacles and figures, the use of which requires the help of an adult – to plant, extend a hand, etc.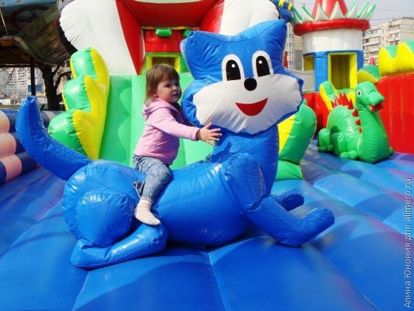 The rules state that children should be without shoes, in their socks (to avoid damage to rubber and, probably, fungal infections). Socks are often issued, but I use them disgusting somehow.
If the slides are high, then you should explain to the child that you cannot go downside down, because the speed develops quite high and you can, for example, dislocate your arm.
Once, my niece (she was 2 years old then) was jumping in a rubber town, and there was a figure that was blown away, then it was blown up to large sizes. My daughter (she was 3) was completely normal to react to her, but my sister was very scared when she climbed up on a mushroom that had suddenly grown. Then even at night she cried: Mom, take me down !.
Do not give the carousel any extra items to the child. His hands should be free. You can not even ride with your favorite toy or cotton candy. This makes it difficult to hold, and in the case of the fall of the object, the baby can reach for it.
Of course, on the big carousel or on the Ferris wheel one should be together with the child, after all, anything can happen – the electricity will be turned off and the carousel will stop, and the child will be alone at height, you never know.
If you know that the baby will jump and run in an amusement park, it is better to wear comfortable clothes that do not hinder movement. Shoes better choose the one that is easily removed and worn. Girls should not use a lot of hairpins and jewelry, they can be the cause of injury – to prick or scratch.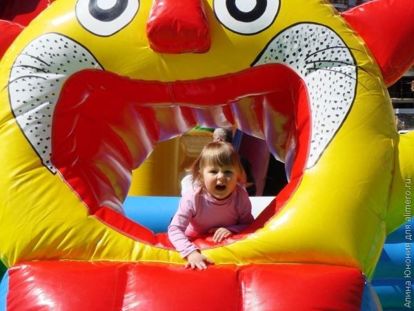 Remember that while running and jumping your child may be hot, choose lighter clothes or take off your replacement (just in case you sweat).
For security, you can put a child in his pocket a piece of paper with your phone number – if the child is lost in an amusement park.
I once saw the sale of special silicone bracelets, the type of those that are issued in foreign hotels, you can write a phone number and fix it on the child's pen with an indelible felt-tip pen. Now I plan to buy such a daughter – during rest, and indeed, for going out to people, this is a very useful thing, I think.
Rides are a great way to hang out and have fun, many of which also contribute to the physical development of kids (a trampoline, for example). But remember that the child should always be in your field of vision. Even in a seemingly safe rubber town, a baby may have a limb stuck in the folds of its figures, for example.
Do your kids love rides?