In my understanding, communicating with animals is something like air or water. This is something that must be present in the life of every person, especially if this person is a child.
After all, it is in childhood that we learn to love and cherish. We understand the limits of our strength, we realize that we can hurt someone, and someone can cause it to us. And how is it without animals? No
But it happened that my daughter was allergic to animals. So strong that you can not keep at home neither cats nor dogs, nor even fish. For me, who grew up surrounded by rottweilers, it was a tragedy. How so? Doesn't my child find out how to embrace such a close and dear being?
Everything was resolved by chance. While mom was photographing another beautiful lady in the shadow of the foliage, the nanny was walking in the park and took the child … to the stable.
Surprisingly, while riding these horses every weekend, I did not ask myself a question – where do they live? But the horses are the only animals with whom the child is allowed close contact! Of course, we were quick to sign up.
Everything is not so simple
From the very beginning, disappointment awaited us: it turns out, such kids are not taken to train. They are too small for independent horse management, even if it is an obedient old pony. Not to mention the fact that many children at this age do not distinguish between left and right, which complicates the task. And they don't have to talk about unwillingness to concentrate and love for concerts — they cannot understand the importance of the word.
However, after talking with the coaches several times, we still came to a common denominator.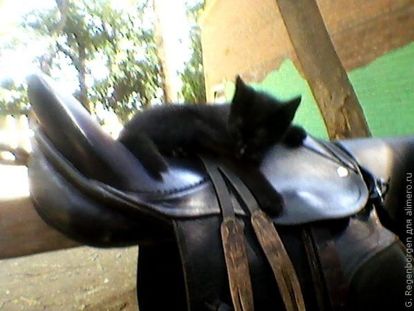 Now the second month ends, as my daughter learns to ride a horse. Training consists of several parts:
one. Horse cleaning Of course, the child is not yet able to clean the horse with high quality, but she is trying because of her abilities. It has already been memorized by heart, which brushes belong to the Bird (this is the name of the pony on which she trains), where it is necessary to scrape harder, and where – just gently hold it with a soft brush.
2 Horseback riding. While the trainer or her assistant drive the horse on the occasion, the child's task is to sit correctly, hold the back and legs.
3. At the end of the lesson the most favorite daughter part – charging. The trainers each time come up with new exercises, but many of the daughter remembered and gladly performs, even if she just rolls around. Stretch with both hands to the ears, alternately – to the tail, hug the horse by the neck while you sit in the saddle – it's so cool!
Moreover, there are so many animals in the stable. In addition to ponies and full-fledged horses, there are two more dogs and a pier of cats. Which you can stroke and cuddle with all your heart – provided you immediately wash your hands, change clothes and take medicine.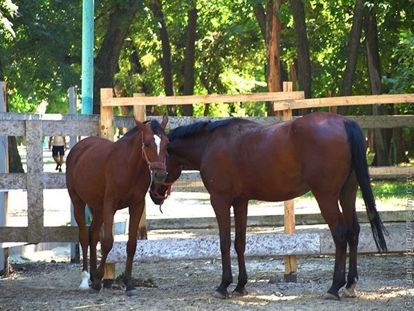 Are there any results for these occupations? Of course. In spite of the small age, life has already patted my beauty – the divorce of parents, numerous moves, forever busy mom. Now she has become much more smiling and calm, and all she has to do is to go to the stable – and she is ready not only to eat anything, but even to quickly put on clothes, forgetting to cry and show character in general.
In the kindergarten, the bus, wherever, all her talk is only about horses. And about the biggest dream – the time when she will sit on a big horse and will jump over obstacles, like all these beautiful girls that play with her in the stable.