It is said that children are the continuation of their parents. I look at my son and understand that wise words do not lie. In my son, I see a piece of myself and my husband, I see small pieces of his grandparents. It's great to see in a child what you love and those you love.
From me in a child is a craving for creativity, and from my husband is a passion for mechanisms and devices. If the mechanisms and their device is a man's topic, where they don't take me to intervieweers, then only I work with the child.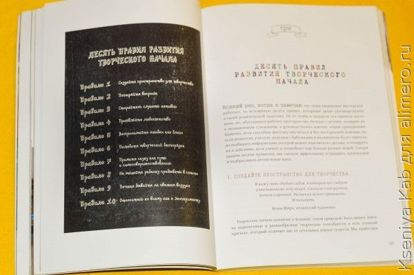 After the book by Raquel Dorley's Creative Workshop came into our hands, there was much more creativity in our house. Now every time in our free time we take this book and look for what we would like to do with our son.


The book has a lot of vivid illustrations, which simplifies the search. And I'll tell you what to choose from:
– games with drawing
– paint experiments
– drawing paste
– marble paper with paint and oil
– drawing on plexiglass
– marmalade constructor
– paper houses
– CD tops
– drawing machine
– homemade robot
– homemade paint
– lizun
– ice cream in a can
– invisible ink
– air plasticine
– homemade light table
– homemade lava lamp
– flower prints
– photograms
– etc.