No matter how hard I tried to delay the moment of sorting and cleaning up the heaps of toys, but that day has come. Firstly, we had a quarantine and we had to do something at home, and secondly, I bought wonderful plastic boxes in the building supermarket that were perfect for storing toys.
There are quite a few options here – large shoe boxes, plastic containers, special containers on wheels in the form of ottomans, thick cloth boxes, soft baskets, etc.
Cardboard boxes are available to everyone, moreover, they can be decorated using paints or colored paper. Wooden boxes are more durable, but they are too heavy and bulky.
I repeat, I found my ideal option – transparent plastic containers. In the store, for some reason, they are called shoeboxes, but you can store anything in them – even toys, even clothes.
Variants of boxes are the most diverse – in capacity (from 0.8 to 24l) and colors (transparent and with a variety of prints). All of them are with lids, which allows you to conveniently put the boxes on top of each other (unlike the same fabric boxes).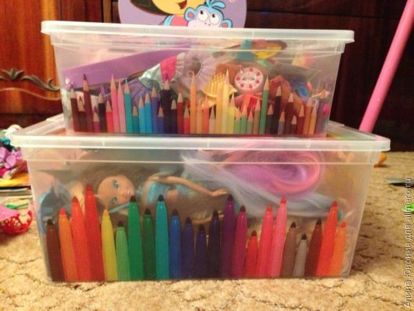 The cost, alas, is not cheap, but quite affordable. Especially, given the fact that these things are strong and durable. The largest box (24l) costs about 200 rubles.
First of all, my daughter and I set aside toys that are completely unnecessary – broken, damaged and incomplete, and thrown away. Then they set aside those that are intended for smaller children – they distributed some of them, packed some and hid them deeply and permanently.
Then they began to clean up the dolls – it was decided to divide all the puppet wealth into three parts (large baby dolls, favorite Winx and Monsterhey, accessories to them). We laid the pups into the largest box (24 l) and hid them in the closet, their daughter almost never plays. And soon we will have a little sister, and we will give them to her.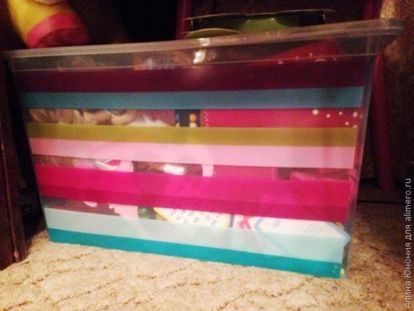 I had to sit a lot with the second category of dolls – it was decided to dress them all in original outfits and shoes, carefully comb and tidy up my hair. In a separate box, we put all the small accessories – combs, phones, bags, changeable clothes and other trifles.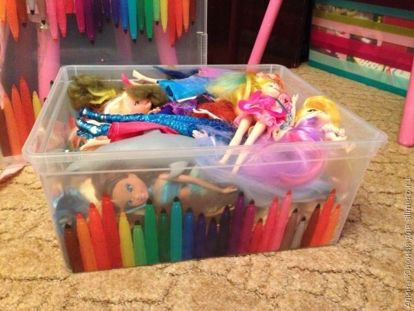 Despite the decrease in the volume of the toy heap, there are still a lot of seemingly necessary. Where to go chocolate egg toys? And for them we found a separate box. I threw out all the cardboard 3-D designers, left the more durable Lego.
For markers and coloring books we found a roomy case and a zipper folder. By the way, we also threw out half of the colorings, because there are no empty pages left in them.
Rest art supplies we keep in a small drawer of the dresser – these are brushes, paints, glue, paper, cardboard, etc.
2 weeks later.
Two weeks have passed, and the order has been preserved, which cannot but please me! My daughter really likes bright boxes with funny snaps on the covers. And the elimination of unnecessary trash has greatly facilitated the search for necessary things.
Now we know for sure what to look for if necessary. And now there is no desire to dump all the packages on the floor in turn, as has often happened before. And after I carried out a few packets of broken junk to the trash bin and gave it the same amount, it became somehow easier to breathe and play.
Once again the thought comes to me that a lot of money was spent in vain. On the Chinese junk, which is interesting only the first half hour after the purchase, and then either breaks or is thrown into the far corner.
And on what basis do you sort the toys? Where do you keep them? Very interesting to know!