We have a real spring on the street, the first grass is breaking through, the birds are singing. Recently, they were chosen for the first picnic this year, they were not far from the river. So I wanted to go to the sea to walk along the promenade, lie on the beach, bask in the sun and swim.
We first took our son to the beach when he was about a year old. My son liked to dig in the sand, run barefoot on the beach. That's all his interests at that time. In the water, he flatly refused to go. As soon as his ankle was put into the water, he would scream like a slice. We could be on the beach for a maximum of 2 hours. Then the konyks started and we drove home.
Last year we gathered for the first time to go to the Sea of ​​Azov with our son. He was 1 year and 11 months old. Very worried about acclimatization, conditions, availability of medical care. Therefore, we wanted to go to the village, which is quite far from civilization, and went to a small town.
Recalling our first summer, we thought we would walk along the coast. The kid will not go into the water, and we also do not really buy. But they were pleasantly surprised. Not only did he run faster on shells than I did (on the Azov Sea a sandy beach mixed with shells), it wasn't enough to drive him out of the water. We went to the beach early in the morning and after 4 pm in the evening, since I was very afraid that he would not get sunburn, and when I felt that the sun was hot, I would wear a T-shirt.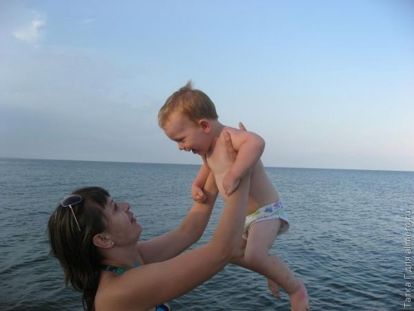 On the beach, the son was herself courtesy and calm. He did not bother people, he shared toys with other children. I imagined that I would run after him between the sun loungers, and I would not have a free minute to sit, but then even regretted that I did not take the book with me.
Necessary things for the child on the sea:
The three of us were driving in a car that was full of things (trunk space).
What you need to take with you:
1) Medical card. All doctors advise to go on vacation and take it with you. As if you need medical care, you will need to present a card.
2) First aid kit. I understand that everything can be bought on vacation, but I took medicine for my tummy, for cold, antipyretic, antihistamine, etc.
3) Insect repellents. We were in the month of June, and there were a lot of mosquitoes. On the first day we went out on the embankment in the evening for a walk, when we came home, our son had 2-3 bites in the same place. And the reaction he had in the form of blisters. Starting from the second day, we completely covered it with mosquito repellent, which helped very well. And we watered the child's remedy ourselves.
4) Food. My husband and I often ate in a cafe or just vegetable salads and fried steaks. But I brought home eggs to my son, I also took beef and rabbit from trusted people.
5) Water. We carried a 20 liter bottle with water. I had the full feeling that we were going beyond the limits of civilization, so for the child I took everything I use at home.
6) Toys. We took a lot of toys for the beach. This is a pool, a circle, buckets, shovels, water guns. The best entertainment we had was a little watering can, he could sit for half an hour and pour water into it, and then pour it into the sand.
7) Stroller. I have already said that we did not like to sit in a wheelchair and did not use it at home. They took a stroller-cane from their friends just in case. We really need it. In the evening, the son rode in a carriage on the embankment, because there were always a lot of people and the little child didn't walk much (everyone flies somewhere, teenagers don't look at their feet at all).
In the summer of 2012 we went for one week. I know that all doctors recommend going for at least half a month, arguing that children do not adapt to the climate. But we did not succeed with the release of her husband. But you know whether we were lucky or whether the climate was mild, but everything went fine with us (there was no adaptation). This year we plan to go for a month to another place with our godfathers.
Girls, share the experience of their trips to the sea with children.