We all know that children must be respected. Let it be small, but still a person with his needs, which must also be satisfied. But how often does our knowledge coincide with the case? And can we always stick to this rule? I recently faced a problem when it is not so easy to take into account the interests of a child.
As it usually happens
My family somehow did not take into account the opinions of children. Parents are older, more important, smarter and generally they contain you. Therefore, it is up to them to decide what is where and how. I will not say that my opinion was never taken into account at all, but if it went very badly against the opinions or plans of the parents, then there were reasons not to take it into account.
For example, in the spring, when it is time for all kinds of mass celebrations, all classmates went to the city center for concerts. And my sister and I took bags, rakes – and with our parents to plant potatoes at the dacha. Every time we had scandals about it, but dad was adamant.
When I, being offended by my parents, locked myself in my room with my sister, Dad demanded to open the lock, because I could not do this to my parents. And in general, demanded respect. Is it possible to demand respect? After all, you can only earn it.
Than? Showing respect from your side.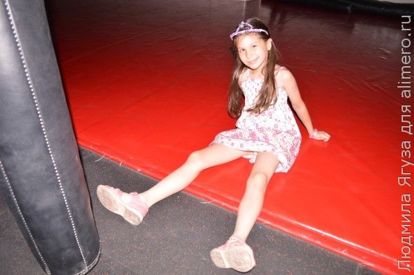 My respect for the child
In my opinion, respect for a child begins with the recognition of his right to have his own opinion. Moreover, it is necessary, if possible, to give him the exercise of this right. And always note the consequences that occur after this use.
For example, a sore subject – cleaning toys. We have them in the nursery evenly layer the floor. Sometimes in them the passage in the necessary direction is raked. "I don't want to clean up, it's a long time," the daughter says. On the 19th of December, when St. Nicholas put all the presents under the pillows for all the children, she was left without sweets.
Why? So after all, it is necessary to reach St. Nicholas's pillow, and there are so many toys on the floor that he can fall, break his leg and not reach other children later! Therefore, he decided not to risk it and left without leaving a gift. After explaining the toys were removed in time.
But this is more educational moment for the daughter. For me, the educational moment was the question of buying a crib in the nursery. We previously changed the wallpaper in it, pasted the light green bright and cheerful. Then they began to pick up a cot for the interior.
My daughter saw in the catalog an amazing bed with a crown, but in purple. I tried to negotiate with her. Like, the bed will be the same, but yellow-green. Purple to the current wallpaper does not dance. The child is in no way.
I postponed the purchase, hoping over time to persuade her to the desired colors. But now she began to think, because this is her room, bed, it is up to her to decide in which environment to live. Yes, the bed is expensive, and in 2-3 years I'm unlikely to buy a new one if it finally comes across that purple against the green-yellow background looks wildly.
But it will be her realization of a mistake, her experience, which she will remember and draw conclusions. And now she will get the feeling that her opinion is also worth something and is taken into account by adults.
This is how we educate each other. Do you respect the opinions of your children?