My daughter has a cousin (or, as it is now fashionable to say, a cousin). The difference in age is exactly one year. Now her daughter is five, and her niece Nick is four years old. Their relations are very peculiar, I would call them love at a distance.
My brother and I live in different cities of our country, therefore constant meetings between children are impossible. On average, it is about 6-7 times a year. The rest of the time we communicate quite tightly – phone, skype.
So, during the separation, the daughter constantly asks when the little sister arrives, tells how much she misses her and with pleasure thinks through the program of joint studies.
But when guests arrive, things are different. At this time, I imagine with horror how mothers of several children cope with a similar problem? So, my daughter loves to sleep a little longer, and goes to sleep at night closer to 23-24.
The cousin used to wake up at 7, and go to bed no later than 22 in the evening. But at this time we only arrive from a walk in the summer. Somehow it is that we adapt to the younger mode. There are inconsistencies that are reflected in the older one – in the afternoon, she easily goes to bed earlier for the company, but in the evening, following the old habit, she wants to stay awake longer.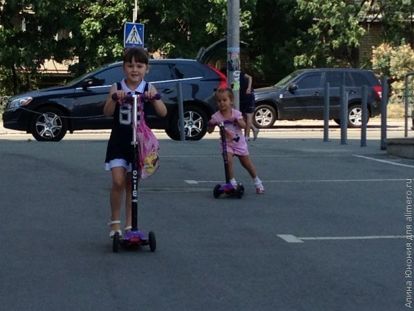 For this reason, it is often difficult for us to plan joint leisure activities – by the time we go outside, the niece is already heading toward the house for lunch. For example, recently we wanted to visit an exhibition of flowers, dear takes about an hour. The sister-in-law offered to meet in the subway no later than 9 am. I am so completely uncomfortable – I would have to do everything at a gallop and run headlong. So did not go anywhere.
It seems to me that in 4-5 years deviations from the regime in one direction or another are quite possible, and if we yield, then concessions are possible in our direction.
In the distance, they are definitely better. At home, of course, they are interested in communicating with each other. The elder shows her toys, teaches to play more adult games. I want to note that over time it became more tolerant, a sense of ownership began to appear less. Toys shared without problems.
True, on the street, in the company of friends, the situation is changing, despite the fact that the younger one is a pretty contact and open child. Just daughters are more interesting to communicate with their peers, they have some kind of common interests and entertainment.
I constantly have to remind that our sister is visiting, that she needs to pay attention, play together.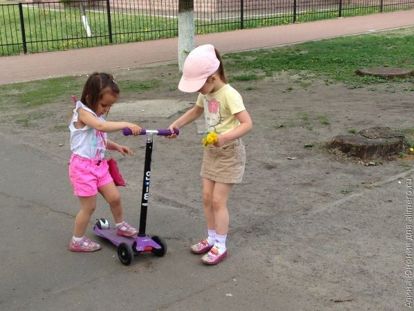 My daughter is more active, loud, emotional, as opposed to calm and balanced sister Nika. Because of this, contact between the girls is established only on the third day.
Summarizing the above, I can not say that cousins ​​are best friends. Still, a small amount of jointly spent time, different interests and principles of education have an effect. In any case, there is no hostility between girls, and this is good news.
It seems to me that it is impossible to demand a strong friendship from children just because they are relatives, or because they are both girls. All children are different, with their own unique temperament and habits. For example, I do not communicate with any of my cousins, but my friend simply does not imagine life without a cousin.
And what is the relationship between the cousins ​​in your families?