I am a paranoid with many years of experience, so one of my compulsory care points for my daughter is regular testing. As a preventive measure, of course, yes, and I sleep more easily.
Of course, absolutely you will not follow everything, but there are key indicators that should be kept under control.
Here I first look at the presence of protein. Or rather, his absence, – because he has no place in the children's urine. Otherwise, this indicates an inflammatory process in the urogenital system.
Other indicators are equally important: leukocytes (no more than three, otherwise the inflammatory process is possible), color, transparency. In short, in the urine of children should not be: mucus, ketone bodies, bacteria, red blood cells, glucose and salts.
The presence of something from the above can characterize not only the condition of the urinary system, but also the malfunction of other organs.
Here I immediately look at the ESR, normally this indicator should not exceed 10 mm / h. And it rises with bacterial and viral diseases. For example, in the winter, the ESR daughter had as many as 48 – the cause was sinusitis and pneumonia.
The importance of hemoglobin is known to all. For preschoolers, its rate is 110-145g / l. Do not miss out of the attention zone and leukocytes – a sharp increase in their number may indicate serious diseases.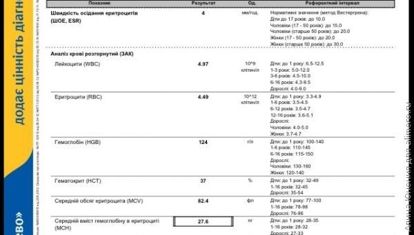 If you suspect a child has an allergic reaction, pay attention to eosinophils – in such cases, they increase. By the way, a large number of eosinophils may be due to the presence of worms in the child's body.
My mother often pays attention to the fact that her daughter drinks a lot of water. And under this pretext it reminds us that we should check the level of glucose in the blood. Well, it is necessary, it is necessary. Norm for children 1-6 years: 3,33-5,55 mmol / l.
Due to the current environmental situation, I regularly check the level of thyroid-stimulating hormone (TSH) in my daughter, an indicator of which indicates the state of the thyroid gland. The norm for children 1-6 years: 0.85-6.5 micron / ml.
Kidney and liver tests
Like most parents, I try to feed my daughter as healthy as possible. But there are exceptions. Unfortunately, in recent years, the diseases have become much younger, you will not be surprised by the malfunction of the kidneys and liver in children of preschool age.
There are a lot of indicators in analyzes, but there are also well-known to us from school: urea, creatinine, uric acid. I wrote a separate article about bilirubin (bile pigment), this indicator is also very important.
There are also more complex indicators: ALT, AST, GGT, ALP, but here it is better to consult the appropriate doctor. These are enzymes necessary for proper digestion and assimilation of food.
I do and will do
It seems to me that it is better to warn than to skip. To pass such a package of tests once a year is not so expensive, especially considering the possibility of obtaining discounts on special coupons. Usually, in addition to the above tests, the daughter also donates blood for worms, but we did this in the winter, six months later we will give it again.
To determine all the above indicators, venous blood is needed, which is given on an empty stomach. On the eve it is desirable to refuse fatty foods.
And how do you feel about the tests for prevention?