In a previous article I wrote that I was an adherent of the regime for children and tried to organize the regime of my son before the year. Now, when the son is a little older, we continue to follow the same plan.
It has become both easier and harder. He matured and began to understand many things. But now he is already showing character and in some ways it becomes more difficult to convince him. Experts correctly say that up to three years every year a child has a crisis in terms of emotions and personality formation.
Day regimen from 1 to 2 years
Properly made daily routine is a guarantee of health and good mood. But I never tried to build a day like the others. I looked at my child. The books say that the child should get up at 7 am, and go to bed at 9. I tried to do it a couple of times, the result is one – a bad mood for me and my son. I love to sleep an hour to 9, my son is the same. So why should I wake him, get up myself, just because somewhere it is written.
So, we had a regime, but it was ours. I'll tell you more about our day, if you do not take into account some extraordinary situations.
1) Rise 8.30-9.00.
We woke up, did a little exercise. But in our case, I turned on the music and we danced with it. It was in the year that we started brushing our teeth with our son. After charging, we went to wash and brush our teeth.
As a rule, at this age, many children eat adult food, and if the mother is still breastfeeding, then this is just snacks and a kind of communication between the mother and the baby. For breakfast, we also had a tradition. Almost every day throughout the year we ate oatmeal with fruit. I didn't force my son, he just liked it. I combined fruit and did not invent anything new.
3) Classes with a baby and a walk – 10.00-13.00
In the warm season, we did about half an hour, and the rest of the time was spent outside. And in the winter with the exact opposite. During the walk we loved to play in the sandbox or go to the park, and at home we spent time developing games and games with dishes and cereals.
For lunch we usually had soup or borscht. The son loves vegetables, so the first dish was with a maximum of different vegetables.
5) Sleep – 14.00-16.30.
At this age, we had a long dream if nothing bothered him. The truth is that in 1.5 years we abandoned diapers, and the baby could sleep less if it was registered.
6) Afternoon tea – 16.30-17.00.
These were fruit purees with yoghurt or cottage cheese.
7) Walk or play at home – 17.30-19.30.
Basically, if the weather allowed, then we went out twice a day. It seems to me that my son is behaving better there and that his mood on the street is much better than at home.
Dinner, we tried some light dishes. It could be omelets or various vegetable casseroles.
9) Sleep – 22.00-23.00.
My son never went to bed before. I remember how indignant around the older generation. Everyone said that our regime was very badly knocked down and that the son should be at 21.00 already in bed. What for? If we go to bed at 9, he will not fall asleep anyway before 10, but at the same time will spoil the mood for himself and me.
Mode from 2 to 3 years
Relatives told me that we simply could not walk into the garden with our regime. I have to tell you that we rebuilt very quickly. From the first day, we went to the garden.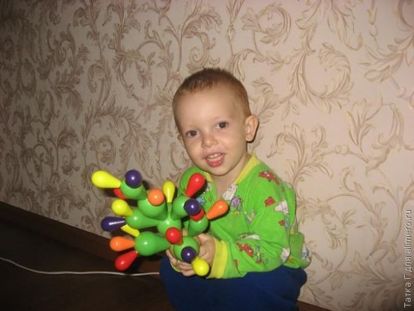 Now we have a full mode, as in the garden.
We wash our face, we must add a puzzle (sometimes we play with machines) and eat ascorbic. In our morning this is like a ritual, it only opens the eyes and follows the plan. I do not feed in the morning, because he then eats badly in the garden.
They eat in the garden. Then they have a musical lesson or group play.
3) Walk – 10.00-11.00.
This is what I don't like the most. We usually walk for a very long time. And in the garden just an hour, even in summer.
For lunch, of course in the garden they eat a lot. This is the first dish, cutlet with a side dish, and even compote. At home, the son would never have eaten so much.
5) Sleep – 12.30-14.45.
The son goes to the nursery, small children sleep there so much. True, Vanya sleeps there for a maximum of an hour, and then tries to wake everyone on the sly (the teacher told her).
6) Afternoon tea – 15.00.
At lunch they can have everything, starting with a casserole and ending with mashed potatoes with a chop.
7) Leaving the garden – 16.00.
The group closes in the garden and all parents must take the children. After the garden, my son and I are walking on the street for another 1.5 hours.
We eat in principle the same thing as at the age from one year to 2.
9) Games – 18.30-22.00.
At this time, now we are learning letters, folding pictures, going once again to the street, making clay or drawing with pencils.
As you can see, we began to get up much earlier, and lie down at the same time. The child very quickly gets used to compliance. And you can already plan time for their affairs.