As soon as I saw such an original format of a copybook, I immediately thought of my daughter. She is the only left-hander in the team, and, of course, writes along with everyone in ordinary notebooks.
Indeed, it is inconvenient for a left-handed to write in ordinary writing. The fact is that the hand immediately closes the writing, which complicates the process. In addition, the sequence and direction of movements when writing letters for left-handers is completely different than for right-handers.
Design and design
The copybooks are made in the form of a thick notebook (as many as 125 pages) with a bright paperback cover. The paper quality is excellent, you can even write with felt-tip pens – they are not printed on the back.
On each page a child is met with a variety queer – creatures that sometimes vaguely resemble animals. As a mother of a girl with a violent fantasy, I can say that the geeks were interested in her daughter, and she immediately began to paint them enthusiastically.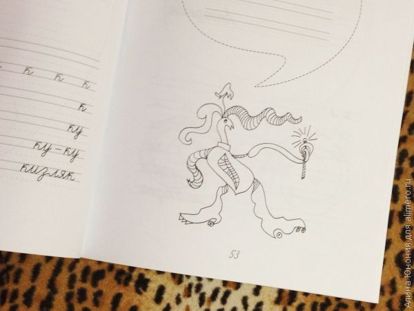 In the first section there are no letters yet, the author recommends first developing the coordination of movements and possession of a pen with the help of drawing simple patterns.
What I liked, so it is not the usual point drawn drawn, but also the task to draw a similar pattern next.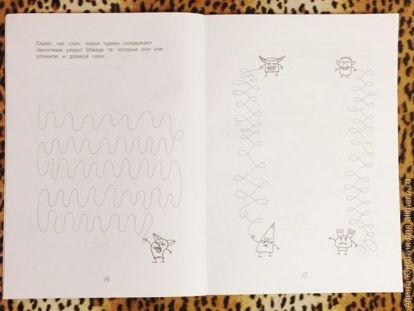 Then go letters. As in the usual recipes, you must first write the parts of the letters on the line, and then the whole letters. This is where we see the main difference between copybooks for left-handers and right-handers – first, you should write from right to left, and secondly, thanks to the arrows, we see the correct and most convenient direction of movement, which is characteristic of left-handed people.
There is no dotted line in the entries; instead, the spelling variants are drawn in gray, but there are few of them. Approximately half of the lines are empty. At each turn there is a place with empty lines, a specific task is missing. If I understood correctly, then you can write anything there.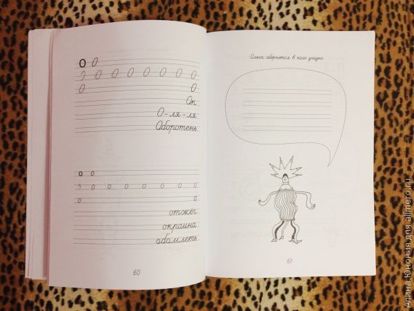 Then goes section for younger students. It is no longer letters, but words. Cranks begin to take the initiative and accompany each turn with original tasks – then you need to guess the secret code, then come up with synonyms / antonyms, then translate the speech of the Crank into human language. Sometimes it is required and to show imagination – to independently invent and write what the geeks think they want, to invent their names, etc.
My daughter and I studied according to the Records for left-handers Nika Dubrovskaya for a week and a half. We found two drawbacks. First is no tilt line, which is present in ordinary notebooks in a slanting ruler. Perhaps this is a new trend, but learning to write without it is quite difficult for a child. As an option, it could be applied at least in the section with letters.
Secondly, many words in the notebook confused my daughter. Although she had considerable vocabulary, she met quite frankly. unfamiliar and, in my personal opinion, absolutely for now words unnecessary for children. Judge for yourself: yaitsa, zombies, erosion, filaret, wacky, etc. And I had to look for the meaning of the word volgoty on the Internet.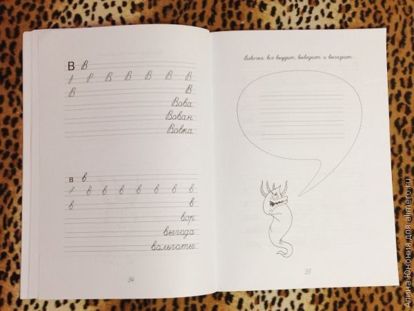 Recording for left-handers Nika Dubrovskaya is a great option for left-handed children who need to be interested and brought to the letter. By the way, the cover also says that this is a notebook for those who do not like to write.
Residents of the pages are probably more interested in boys. Still, most girls prefer fairies, butterflies and cats, not geeks, agree.
The great advantage of the book is the existence of the rules for writing letters for left-handed children. As a right-handed person, it was quite problematic for me to correctly put my daughter's hand in order to bring her actions in writing letters to automatism. And if you force a left-handed person to write according to the principle of right-handers, nothing sensible will work – I checked it more than once.
The way of writing from right to left is undoubtedly convenient, but, you see, the child encounters him for the first and last time – in this notebook. Still, all the other notebooks will be his usual, for right-handers. For a change, of course, you can try to pee and so – hone the technique of writing, to fill his hand.
Cost of Copyings for left-handers 450r (150 UAH) – On the one hand, it is expensive, and on the other hand, children's publications of good quality now cost a lot. Even taking into account daily activities, the notebook is enough for a child for at least a month. And yet – this is a great option for a gift!
Do you think left-handed children need separate notebooks for writing or not?