We all know that the child should be given to independently cope with the tasks so that he learns to get out of difficult situations. But I noticed behind myself, often in everyday life, out of habit, I do small work for a child. It's faster and more convenient for me, but is it good for the child?
Principle of non-interference
The principle is familiar to everyone, but often we relate it to some global things. And we undertake the execution of minor matters. For example, a six-year-old child should dress on their own – this is undeniable. But I get her things out of the dressing-room myself, I smooth it, turn it around and put it so that it takes it correctly and puts it on.
Of course, at six years old, the child still hardly has to iron things on his own. But to take them right out and put them on, probably capable without my mother's help. The same with brushing your teeth. My daughter does this herself, but often I squeeze the paste onto the brush.
Yes, it will be faster, which is especially important in the morning when we are going to kindergarten. So I can control the consumption of pasta – sometimes the daughter gets carried away and squeezes out three times a day at a time. But it is convenient to me now. And the daughter gets used that the majority of processes is executed for her. She just needs to press the Start button to make it work.
With age, this fussing around the child will start annoying him. I remember how infuriated my grandmother's participation in cleaning the apartment. It is necessary to pick up a broom or rag, as the grandmother began to tell how to sweep, collect garbage on the scoop and carefully loosen the corners, washing the floor towards the threshold.
Still unpleasant were her requests for help with the housework. She did all the main and interesting things herself, and asked me only to bring, carry, wash, wipe. I felt mistrust and disbelief in my strengths and abilities.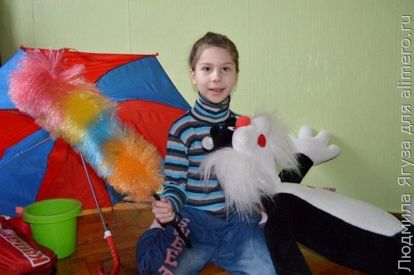 Plasticine on the ceiling
In general, these thoughts have besieged me for a long time. But yesterday I managed to keep myself in hand, when I really wanted to help the child. The daughter blinded from plasticine a weighty ball the size of a cam and threw it up. And so, he stuck to the ceiling and did not fall.
She let think how to get it. Brought a stool – not enough. Tried to knock down a cardboard box – does not reach. She dragged a children's table, took a whisk for dust. But the table set far, and the panicle is a bit short. An umbrella is also not to get it. Already began to wind up, get angry and cry.
I wanted to say: Put the table closer and take a mop. But that means deciding everything for her. I bit my tongue and watched on. The table to move the daughter guessed. I also understood that something was needed more. Do not believe it, dragged a meter teddy cat so that he pawed it to the ball.
When she nearly got up from that table with him, she suggested that she take a look at the toilet (there we have a mop). Seeing her, the child just brightened from the new features! Clay was shot down, picked up. But now there is a new problem – how to glue it back to the ceiling?
In general, the principle of non-interference is a very good principle. The main thing is to use it always, not selectively. Do you do this?