Puzzles entered our life for a long time. I enjoy watching the son fold the pictures. He is so serious about it, and how he is waiting for praise for the collected picture. For him, each puzzle is a small victory.
Why do we need puzzles for a child?
1) develop figurative and logical thinking
2) train memory and imagination
3) there are skills to turn pieces of pictures in mind so as to fit the overall picture
4) learn to distinguish elements in shape, color and size
5) develop perseverance and patience.
6) help to concentrate on something
7) teach children to finish the job
8) develop fine motor skills, coordination and sensory
How to choose puzzles?
More recently, on the shelves of our stores lay 5-10 boxes of puzzles with lots of items and small details. Having bought them, it was impossible to interest the child, because it is still very difficult for him, and his fingers are not able to handle fine details normally.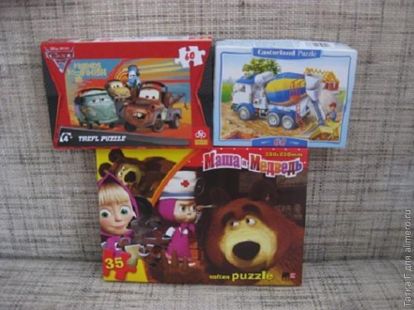 Now the range of puzzles is huge. They come in several forms.
1) wooden. The number of elements is usually small, and the details are large. This is perfect for your child at the beginning of training.
2) cardboard. The size of the pictures can reach 1500 elements. Choose a quality cardboard. Do not pursue a low price, because after 2-3 times of folding such a puzzle toddler, the bad cardboard begins to stratify.
3) foamed rubber. These puzzles are most often sold in a set of 4 pieces and with parts from 2 to 5 elements. Here you can acquaint the child with them in the first place.
5) volumetric and flat;
How to interest the baby?
For the first time I showed the baby puzzles at 1 year and 4 months. I will not say that he immediately became interested. He did not even want to try. Then, with him, I began to fold puzzles and praise myself, what a fine fellow I am, and what a wonderful giraffe or elephant I have turned out to be.
I do not know about other children, but the provocation works for my son. How so? I praise myself and do not praise him. Then he decided to try it himself. We broke a couple of pictures, trying to place the protrusions in the holes, but each time everything turned out better.
We started with soft puzzles of animals (2 animals with 3 elements each, 1 – 4 elements, 1 – 5 elements). I folded two elements, and one left to lie separately. She said, look, the elephant does not have enough ear or the dog has a paw, let's put it back. So he became interested.
A couple of weeks later, when he confidently collected these pictures, I bought him a set with the same number of elements, but only with cars. Then there were cartoon characters Masha and the bear.
I bought those pictures that were interesting to my son, i.e. his favorite technique or cartoon heroes. And most importantly, even after the smallest achievement – this is praise. Tell the child how good he is and that he is your most intelligent and talented.
When my son confidently collected small details, my sister brought him a puzzle with giant details from the cartoon Prostokvashino for 24 elements.
The first time we gathered together, and the second time – with a few of my clues. The third was an encore grandmother and grandfather.
By two years, he confidently collected puzzles for 24 and 30 elements. Moreover, I am still amazed, he gathers sky and greenery with great speed, and hangs on his faces and clothes.
Now we are 2.8 and we collect puzzles for 60-70 parts. But still we collect only those pictures that he likes and that are familiar to him from the outside world, fairy tales or cartoons.
And if you do not want?
There are two options.
– Really does not want to collect.
Then put the pictures aside and try again later. Again, no desire? Then let your child develop through other activities. For example, modeling or drawing. Most often, children do not want to do this if their parents are indifferent to puzzles. Now it is sometimes interesting for me to assemble a puzzle for 1000 or 1500 elements. And so that the baby does not break the already collected pieces, then I collect them under the carpet.
– Could not interest.
I recently visited a girl with her baby. Our children go to kindergarten together. And Roly began to brag about how he can collect. The boy's mother said that they couldn't collect and her son wouldn't force him to do it.
I suggested she try now. She took out a package with puzzles, put it in front of him and told him to collect. Naturally, the baby just scattered them. Then I made an attempt, and about a miracle – with my help the kid collected. Then the question is, the baby does not want and does not know how or mom too lazy to engage? I gave all the small pictures to them with me, now her son is collecting puzzles, and they are already buying him pictures for more details.