Homeschooling faces most children and their parents. As with any process, there may be problems. My daughter, who is 4.5 years old, has learned almost all the skills at home, and I hope that my experience will be useful for other moms of restless girls.
This problem is the most important and global. And indeed, why does a child refuse such interesting activities as learning letters and numbers, for example? The reasons may be different, their main ones:
1. Boredom. Perhaps you should add elements of the game to the lessons or use the child's favorite cartoon characters to make him interested.
2. Not time. Did you start too soon? For example, the study of letters and numbers is advised to start closer to one and a half to two years, and reading – even later.
This point is familiar to me firsthand. I will tell you in secret that at a younger age my daughter was so restless that she couldn't even sit on a pot and therefore did her work into it in several visits.
There is nothing abnormal in this, because the energy in the kids is more than enough and most of them prefer to drum the stick over the pan than to sit and look at the cards with letters and flowers.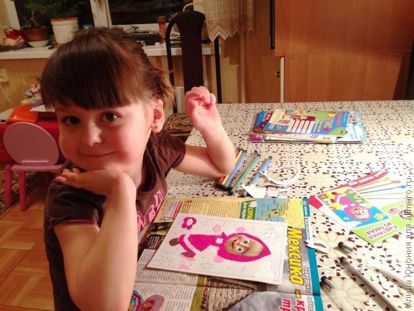 Only one way out – to minimize the duration of classes. In the developmental norms of four-year-olds, by the way, there is a clause that they are able to sit for 10-15 minutes, concentrating on one action. Therefore, one can not even think about long-term lessons, or at least make constant pauses in the form of outdoor games.
This problem is not only children, but also their parents. To my regret, I note that during my classes my daughter behaves somewhat differently than with the others. So, with a grandmother, she can enthusiastically connect points in special journals or write recipes for about 20 minutes. But in my presence she always has a lot of things that need to be done urgently just to avoid doing it.
In this case, the approach of all parents is different. The simplest solution is a threat in the form of punishment (for example, Until you add a recipe, I will not include cartoons!). It works, but there are side effects. After all, this way we, with our own hands, instill in the child a disgust for the learning process.
There is another solution that requires more time and effort, but is more efficient. This explanation of the reasons and objectives of the educational process. Only without phrases, and then you will grow stupid, it is better to give examples in the form of elder comrades, favorite characters.
Do not forget about a personal example, recently the daughter told me: How good you are, you know how to read everything !. And this is a very important remark on the part of the child, on which it is simply necessary to focus attention. From this phrase it follows that it is good and convenient to be smart, that the acquired skills will definitely come in handy later in life.
What problems do you face when teaching children?