I recently was with my daughter on a general examination in the clinic. The surgeon said that she had a predisposition for flat-footedness, and advised him to do prevention. I was very upset, I almost cried. But the surgeon reassured me. According to him, there is such a predisposition for every 3rd child and it does not always develop into a disease.
What methods of prevention, I know – no
When this doctor found out that I didn't know anything about prevention of flat-footedness, he gave me some tips, showed exercises and let me read a pamphlet. I studied everything, and also watched the video on the Internet.
Now I know what to do and how to prevent my daughter from having this disease. I also want to share useful information with you, dear readers. It is not difficult to do all this, but the effect is very good!
Massage and gymnastics – the first helpers
The most common method of preventing flatfoot, as the doctor told us, is walking barefoot. I make my daughter walk barefoot not only at home, but also in the country on the sand or on the grass.
And I did a massage mat. To do this, I sewed buttons on a thick piece of material. I walk on them myself, and my daughter walks after me. So we are engaged in prevention and play.
I also made a few flat bags. In one I poured peas, in another millet, in the third rice. A daughter walks in such bags – this is also a foot massage.
Every morning I do my feet massage hands. A doctor showed me how to do it, but now you can watch a video on the Internet.
And we do gymnastics. I show my daughter how to walk on the outside of the feet, and how on the inside. We also walk on fingers and heels, and we collect small toys from the floor with the help of fingers – this is both fascinating and useful!
I think that the most important thing is not to be lazy to us, the parents. We do prevention every day. When my daughter is naughty, I create games, during which we do gymnastics and massage. And I like it, and my child gets another batch of useful exercises.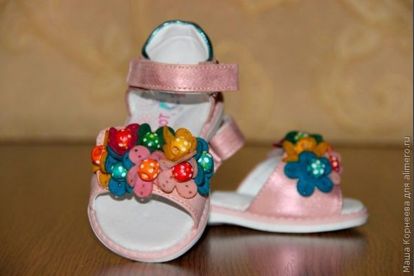 Proper shoes – a pledge of lack of flat feet
Still, as it turned out, doing massage and gymnastics is not the most important thing. The important point is to buy your child the right shoes. I had not thought about it before and could take shoes for my daughter a little larger, because children grow quickly. And it turns out that it is important that the size be suitable.
Now I know that shoes do not only have to fit the size, but also have certain properties. For example, the backdrop must be tough, and fastenings – strong. Now I choose shoes only for these qualities. Well, I also see that the shape of the sole coincides with the shape of the foot of the daughter. This is not as difficult as it seems at first!
And what methods of prevention of flatfoot you know? Do you use them on your children?