My daughter's best friend had a birthday yesterday. We have known both Dima and his mother for a long time (we studied at the same school with my mother), our children go to the same kindergarten group and even plan to go to the first grade together. Therefore, we began to prepare gifts in advance.
At this age, boys often have new hobbies. In addition to standard machines, many children begin to pull into more adult areas. These can be botany, football, aviation, research, etc. Dima has recently become interested in space and everything connected with it.
At first we wanted to give him a globe. Not the usual model that many of us had, but the electronic one. It turns out that now there are options with lighting, which highlights the different sections of our Earth – highlighting the capitals, highlighting the borders of states, etc.
But Dima was so impatient that his grandmother could not stand it, and bought a globe. It's a pity, of course, because at that time I had almost bought an excellent model of the globe in the American online store, not only with backlighting, but also with voice acting!
I had to look for options for models of planets. For some reason, Dima loves Saturn for some reason, but I could not find him separately. As a result, my daughter and I settled on a set that can not only play, but also need to be assembled before that.
There, in the USA, I purchased the Solar System Model, in which the planets can either be installed on special fasteners (in a certain order, of course), or even hung from the ceiling. True, the planets must first be glued together from two halves and painted in the appropriate colors (paints are attached).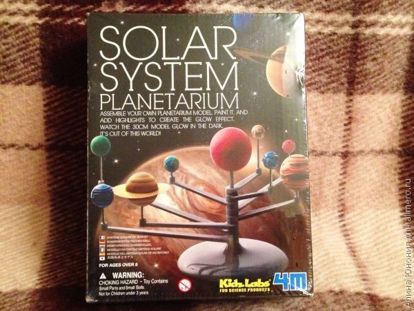 I am as lucky as a postal car – I thought when I paid for my purchase. After all, I managed to find an option with a 75% discount – for only $ 9.99 (usually $ 40).
Honestly, I don't like to give children clothes. Firstly, in this case, it is difficult to please with taste – these are no longer two-year-old children who will easily put on everything that they will be given. Secondly, it seems to me that clothing is a household need, and not a holiday gift. But this time I made an exception.
Moms of boys, of course, are familiar with the cartoon Cars. There are such characters among the characters Professor Zundap. So, this car with a monocle is a favorite character of the birthday boy, even I remembered him.
But the trouble is that for some reason in our stores there are no toys in the form of this character, not even a small modelka. On the Internet, of course, I found this Zundapp, but I didn't raise my hand to pay $ 30 for a 1:55 machine.
My daughter and I came up with an excellent alternative – to make Dima a T-shirt with his favorite character. It cost us about the same as buying a regular good quality t-shirt – about 100 UAH. ($ 300). True, the daughter could not keep a secret and told a friend about the upcoming gift long before the holiday.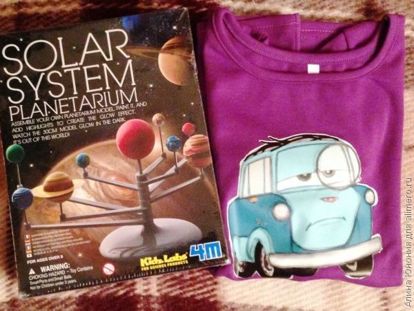 To our joy, with gifts, we hit the nail. Dima immediately put on a t-shirt and even expressed a desire to immediately collect and color the planets.
We completed the present with a postcard, which our daughter made with her own hands, and with a bouquet of flowers for the birthday mom.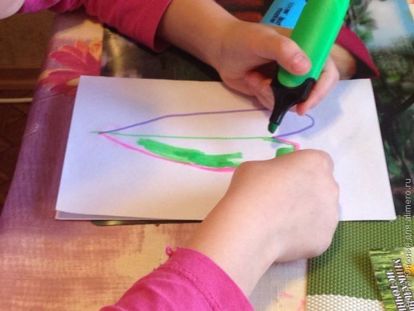 I am very pleased that the child liked our gifts. Clearly, the money in the envelope, he would have been less happy. Therefore, I advise you not to be lazy and not to buy the first comer from the store shelves. It is better to check with the child's parents in advance what the interests of the birthday boy are, what he dreams about, what he loves and what does not.
What are your sons at 6 years old about?