My daughter and I began to teach poetry, in about two and a half years, when she finally began to speak well. However, I admit my mistake, I did not pay enough attention to this activity. Now I see that her cousin brother of the same age, who constantly taught poetry in kindergarten, managed to develop a good memory. And besides, he is absolutely not afraid to speak in public.
Barto tired and we abandoned poems
We started with small poems. Of course, it was the traditional Our Tanya crying loudly Agnes Barto. We even had a whole book of this author, and then we even ventured on the relatively large poem Rubber Zina. My daughter knew him remarkably and loudly, confidently told at various family gatherings. Grandmothers were touched.
So it turned out that my daughter practically did not go to kindergarten. I had to say goodbye to him because of the strong manifestation of allergies. We taught poems at home. But I somehow lost sight of this activity, and when my child lost interest in the work of citizen Barto, for some reason I did not offer her anything in return. Now regret it.
I regretted our interrupted acquaintance with poetry, when I learned that my daughter's peer, her cousin, did not make any effort to memorize poems by heart at school. The fact is that in the first grade the quatrains are asked almost every day. Maxim does not teach them at home at all; he will hear the class two or three times, as others tell, and is ready to repeat without hesitation. In our case with Zhenka, sometimes the four bad lines take at least an hour.
On the other hand, Maxim taught so many poems in the garden and often participated in some productions, that now he is absolutely not afraid to speak in public. Zhenya, on the contrary, showed such a problem.
Children like funny and silly poems
I noticed my omission even before the first class, and before the school, we did try to teach poetry again for a while. At first, for some reason, I thought that it was worth paying attention to the classics: Pushkin, for example.
We undertook Lukomorye, but it turned out that there are a lot of obscure obsolete words that are abracadabra for the child and are played like nothing. I decided that vocabulary, of course, needs to be expanded, but this is too much.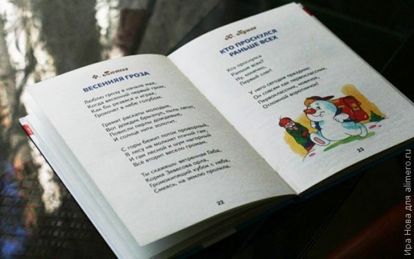 Well, Daniil Kharms's poems went well with us: Ivan Ivanovich Samovar, Ivan Taporyzhkin, translations of Samuel Marshak's comic English songs: Humpty Dumpty and something else.
The grandmother claims (I did not check, to be honest) that they and the girl remarkably taught the Cockroach and Aibolit Korney Chukovsky. But when I was a child never reproduced it. (In general, it may have been taught, but not learned, grandmothers tend to exaggerate the ability of their grandchildren).
Then I remembered a wonderful modern author, Renata Mucha. Her works are easy to find on the Internet, I did not come across in bookstores. This poetess has many short funny poems, like:
Yesterday the crocodile smiled so viciously
What I still for him uncomfortable.
All night from dark until dawn
Owl sat on a branch
And the song put it about it,
And in the morning I forgot the words.
These things are perceived by the child with a bang.
Do you teach poetry with your child?