A little less than a month for the New Year – it's time to start actively preparing for the children's matinee.
The goal and its achievement

First of all, we were assigned to learn poems and a couple of songs. Since we are now in the speech therapy group – this is a top priority. As I learned, children began to learn New Year songs about a month ago. A friendly team, with tireless repetitions and consolidation of the material, with speech and cramming of a simple motive.
At home all the above skills should be consolidated. The biggest problem in this regard (meaning the songs) is that I have a perfect ear, but the sense of rhythm is completely absent. Let me explain with an example – I can recognize with absolute certainty a fake note in a symphony orchestra or even operatic singing, but I myself can reproduce everything with perfect accuracy – this is a problem.
I remember my school experience. I then put the final waltz on the last call. Everything is verified and calculated. I set the rhythm, counting each step while standing on the school porch, but I don't even try to dance myself – I know that I'm going to stand in the first corner. Here I am so strange.
This is our main problem in learning songs. I cannot reproduce the rhythm of singing for the child at home, and at the same time I write songs very well (there is such an experience) with a perfect hit on every note.
Secondly – this is a search for a suit. Last year we faced a similar problem. Then the son was a bear cub, about which I had been warned in advance in the garden. I knew about the suit for a month. Reported this to the grandmothers. My grandmother (for mom) almost all my life spent on a sewing machine. Accordingly, I hoped that I would get the costume with little blood.
It is much cheaper to buy a piece of cloth, or choose from the abundance of a grandmother's warehouse, than to spend time and money searching for a finished outfit. But in the end, the day before the matinee, the grandmother called me and said that she, you see, was sorry to cut the fur into ears and tail, and she took the costume at the box office.
You can't do anything about it – I had to go, pay money, take it, and then return it on the same day, as there were enough people who wanted it without us.
This year, the son acts as a cheerful little man. Virtually no restrictions, the only detail – the presence of curly colored wig. There were no problems with this – I already bought it. But as for the costume, nothing has been decided yet.
New Year's clown costume (they decided not to reinvent the wheel and get away with existing ones) at the box office costs from $ 5. Buying is twice as expensive. Grandmother and this time she swore to sew from the available stocks. I grunted and resigned to the inevitable, just in case by submitting an application to the nearby store of children's things that I would rent a suit from them.
In a multi-colored suit (from two halves) a sleeveless jacket and the same bright shorts. As an addition there is a cap on the head or a butterfly. Well, there are all sorts of fringes, fur ruffles or edging of the New Year's rain.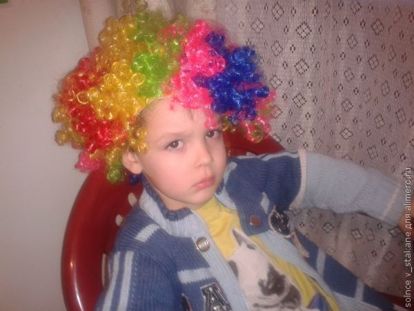 In any case, time suffers – let's see what grandmother decides. Unfortunately, I did not have time to get my own sewing machine. And crocheting is not an option. First of all, I simply don't have enough time (and in terms of the cost of the threads, it will not be cheaper than rolling). And secondly, a knitted suit will turn out to be too massive and heavy (at least, the variant that occurred to me).
So far, and I am in limbo. And how are you preparing for the children's matinees?