Recently, on the Internet, I found some interesting material on how to paint a coloring using plasticine. I liked this idea, and I decided to offer this occupation to my son. He does not like to draw with pencils, but he just loves to make plasticine. No toy can do without plasticine.
Drawing plasticine

There are a lot of colorings at home (I bought in the hope that my son would draw), but it was difficult to choose a suitable coloring. The thing is that for sculpting more suitable pictures with large parts, they are more convenient to smear the clay of the desired color and do not go beyond the edges of the picture.
The trial version we had a fish. We painted it pretty quickly. The next drawing son did himself. My idea he liked. In the evening, thus, he painted three drawings, and then enthusiastically showed his results to us: mom, dad, grandmother.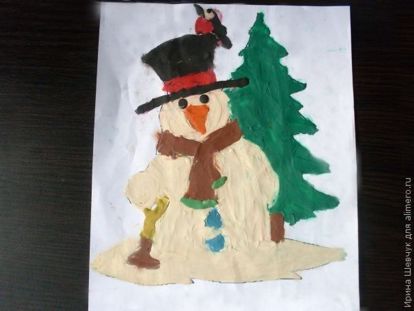 Experience in such a lesson is small, but I can still give a couple of tips:
1. Plasticine before use, it is desirable to put in a warm place, it will become softer and, accordingly, smear on the leaf will be easier.
2. You will need a small cloth for hands. To prevent colors from mixing, you need to carefully wipe your fingers from the remnants of the previous clay before using the new color.
Plasticine application

Another plasticine idea is appliqué. The essence of this activity is to blind animals, plants, nature and stick them on cardboard.
Pre-cardboard can be coated with a thin layer of clay, it looks very impressive. Thus, the picture will come out or in other words clay application.
We haven't done the applications yet, I just picked up a few pictures to recreate them with my son.
My son loves to work with plasticine, he always enthusiastically makes his heroes and plays with them. After these games, I often find pieces of clay on the carpet, chairs and other furniture. I'm trying to clean up after myself, but still it's impossible to remove clay completely, for example, from a carpet.
I hope that the new use of plasticine will take root, and plasticine pictures will flaunt only on the walls or separately in the nightstand with toys.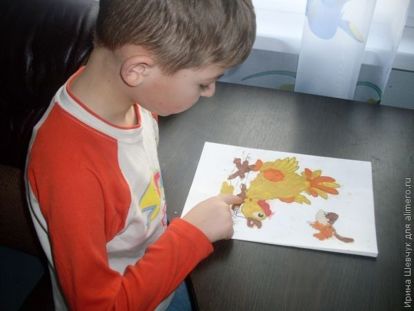 Did you do something similar with your children? Do you know unusual crafts from plasticine? Share!