Recently, I had a birthday and the most unexpected, and this is even more pleasant, my four-year-old son presented me a gift. In the morning, of course, his grandmother persuaded him to congratulate me verbally. However, after my husband presented me a rose and a postcard, my son was so inspired that he ran away, shouting: Mom, and I will prepare a present for you now!
The best gift from son
What was my surprise when after a few minutes he handed me a very colorful picture, where the foreground was a red flower, a number of a heart, which I had never met on his home drawings, a large yellow sun, and a grass and a green bush below.
My joy knew no bounds. Firstly, by surprise, secondly, I was pleased with the fact that he himself realized and drew without any clues.
Colors of paints convey the feelings and experiences of children
After that, I began to pay more attention to his drawings, because in them children open their emotions and experiences, which can not always be expressed in words. And I was also interested in the fact that the day before I saw clouds with lightning and a lot of black clouds on his drawings.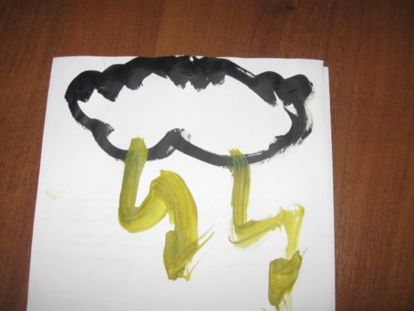 This made me want to understand his drawings, because it is clear that when my son gave me a colorful drawing, he was overwhelmed with positive emotions. He wanted to make me nice and he did it. But what did he feel when he was painting the clouds and the black color dominated in the drawing?
It turns out that black color shows bad mood, negative, depression. When I asked the kid why there is so much black, he replied: Mom, well, the clouds are black !. I tried to analyze the drawing and stopped at the situation in the family. And indeed, my husband and I were in turmoil at that moment and sometimes we could fall on each other. This is where black clouds and 2 lightning could appear.
I understood that questions should be asked not to the child, but first and foremost to myself. After all, children can not give the form and not talk about it, but in the figure clearly show that they are worried: it may be a lack of attention from loved ones, and problems in the family and in communicating with peers.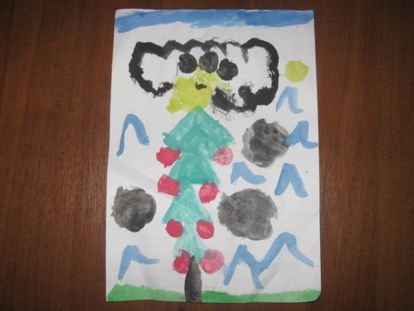 How to decipher the pictures?
In many ways: by color, by pressure on the pencil, and by the size of the picture, and by the location of the objects on it, as far as it is detailed. However, you do not need to be very categorical.
For example, if there is a lot of red in the picture, this does not necessarily mean that the child is excessively aggressive (the red color also indicates strength of will, eccentricity, increased excitability). Blue also testifies not only to anguish and internal tension (the presence of blue is the need for rest, concentration, focus on internal problems).
All these indicators are symbolic. And only a very experienced psychologist can interpret them with high accuracy. We, too, can use these signs in order to respond in a timely manner to the anxiety of the baby and his experiences, to help in the existing problems with the outside world.
Hard case
I remembered how for a long time my son had painted the same thing – a hut on chicken legs, and asked me to finish drawing Baba Yaga in a mortar. A huge pile of paper, drawn from a pen, depicted a hut on chicken legs, always with a smoke and smoke coming out.

As I did not try to interpret this drawing, but nothing occurred to me, except that he was greatly impressed by the cartoon – A Baba-Yaga against.)) It was after him that he began to paint the same thing in big quantity and over a long period.
Can you help to explain?))