I don't know about you, but my first phone appeared at the age of 18. And the matter is not only in the high cost of mobile communication in those times, but also in the fact that 12 years ago the phones did not have such distribution.
Now the situation is completely different. A three-year-old child often owns electronic gadgets more masterly than an adult. For our modern children, the phone is something ordinary, ordinary and affordable. Not surprisingly, at the age of five, my daughter asked when she would have her personal mobile phone.
Now she is almost five and a half and a week ago she finally became the happy owner of a personal mobile. It may be early, I do not argue, but in a year we would definitely have to give her the phone, because the child will go to the first grade. And I'll go crazy if I don't have any connection with her.
Of course, the daughter expected that her phone would be the same as that of her mother – a touchscreen with many games and functions. But we are not planning to satisfy this whim, because trusting a child with an expensive and unusually fragile thing means a high risk of damage.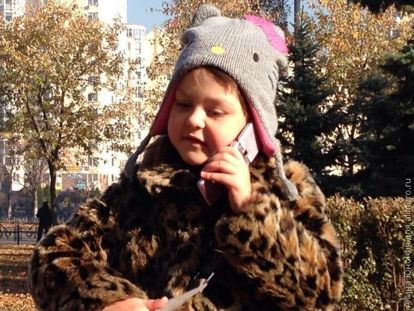 Of course, the daughter roughly understands the value of things and the rules for handling them, but this does not save the phone from possible falls. In addition, you know, I do not want to once again attract the attention of outsiders, who may like the expensive phone. Although my daughter and I spend all the time together, but still for someone two phones can be good prey.
Therefore, I gave my daughter my old push-button mobile phone of a cheerful pink color. The clamshell design protects the display from scratches and the buttons from accidentally pressing. In addition, it is now indecently cheap, so it's not a pity if anything happens.
With the cost of mobile communications things are fine now – for a monthly subscription fee of 15 hryvnia (50 rubles), I issued my daughter a tariff plan with unlimited calls within the network, this is enough for her.
Daughter's joy knew no bounds! We put the numbers of parents, grandmothers, grandfathers, sisters, girlfriends with phones and mothers of friends of the same age into the phone book.
At first, I even had to explain to her that often calling was not quite decent. Because she was ready to call everyone from morning to evening. And when her telephone rang, her cheeks were already swollen from a sense of self-worth.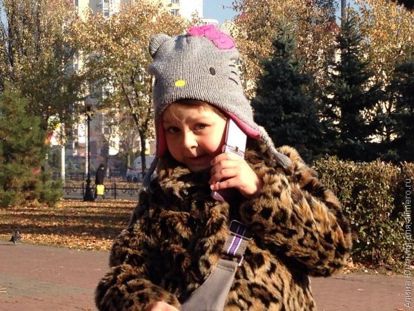 Moreover, imagine, she independently figured out the Russian-language menu, and even started writing the first clumsy text messages, changing the call melodies for different subscribers. The phone is equipped with a simple camera (1.3 MP), which allows you to take photos and videos.
Of course, she does not take the phone to kindergarten, but proudly walks with him the rest of the time. Now it is, rather, a toy for her, because with her always someone from adults. She had already forgotten that she wanted a touchscreen phone with games – so fascinated by her communication.
Perhaps in the future we will give her a more modern phone model. Now while she has a trial period – we look at how careful she is with this old one.
And how do you feel about the presence of mobile phones in children? From what age do you plan to donate phones to your children?