Now my daughter is a little over 5 years old and she has personal money. If I had heard this phrase 10 years ago, I would have twisted my finger at my temple, saying that they were crazy parents. But now this distribution of finance is part of the educational process.
Why do you need it?
Talking about where the money comes from and how hard it is to earn it is great. But the child needs more information and practice. After all, he knows only what the work of parents is in theory.
In addition, the children see money in their mum's wallet, and a quite expected offer arises – let's buy something. Often the consequences of unreasonable spending are known to them, again, only by talking.
Personal money is needed for our daughter's personal daily needs, my husband and I decided. In addition, the baby has long been interested in wallets, checks and cards. Why not? Let him try to keep his own mini budget.
We don't have enough daily expenses, but they do exist. In various ways it can be: ice cream, juice, water, stickers, stationery, rides, games in the machine with toys, cotton candy, etc. Not all at once, of course.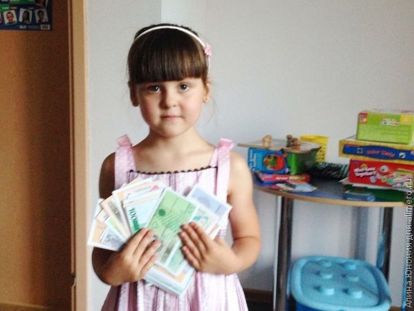 The biggest bill that may be in the wallet of the daughter is 20 hryvnia (about 70 rubles). this is the optimal amount for daily needs, even the change remains usually.
There was no limit to the joy of her daughter – at last she had her own money, which she neatly laid out in different branches of the purse in accordance with the denomination. By the way, I noticed that even small bills bring her pleasure, especially if there are a lot of them.
On the first day, she suddenly offered me: Go to the cashier, only behave like not my mother. Give a discount card. Standing, watching. She took a chocolate egg, went to the cashier, counted out the money, pretended to check the change and put it in her wallet with a check. The package is not needed, thanks, – added.
In the evening I decided to continue spending, but I only had enough money for ice cream. Well, then I will not buy more eggs, – the daughter made a reasonable conclusion. The next day, she has already distributed finances in such a way as to even treat her friend with juice.
Request to buy something, I do not know what has become much less. And after several fare payments in the minibus, the daughter herself began to offer to walk on foot in order to save on something necessary.
What else makes me happy, literally in a few days, my daughter began to freely navigate in numbers from one to twenty. How much can you buy with this money candy, juice, portions of ice cream, what will be the surrender. In addition, she met with the denomination, value and use of kopecks (very useful – an account from 1 to 100).
Before making each purchase, she carefully considers her decision. And if suddenly she decided to spend money on something expensive (jumping on a trampoline, for example), she calmly agrees to the austerity mode.
While replenishment of children's wallets are not regular. My husband and I give our daughter coins and small bills; for holidays or as a reward, we can give them bills and bigger ones. Yes, and the tooth fairy began to visit us with money from recent times.
And what is the relationship with the money of your children?